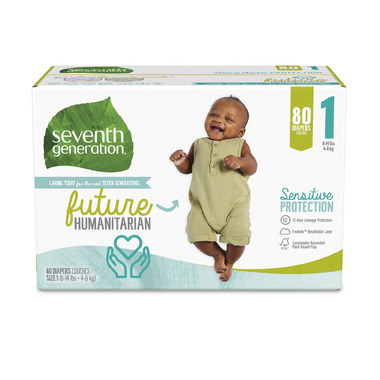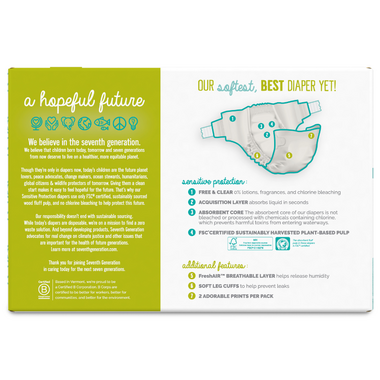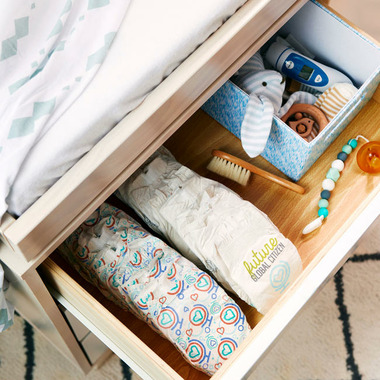 Description
Give your future Wildlife Protector a clean, fresh start with Seventh Generation Diapers. Sensitive protection for a happy today made from materials that nurture a healthy tomorrow.

Their absorbent core provides the long-lasting, 12-hour protection your busy baby needs, while their FreshAIR Breathable Layer helps release humidity. And that's not all. Their Free and Clear Diapers are gentle on your baby's sensitive skin with 0% fragrances, lotions, or chlorine bleaching, and use only FSC Certified, sustainably sourced wood pulp that's gentle on our planet's forests, helping ensure your baby grows up on a healthy planet. Wrapped in Seventh Generation's most absorbent, most sustainable diaper ever—the future looks good on your baby.

They believe in a Seventh Generation. They believe that children born today and seven generations from now deserve to live on a healthier, more equitable planet. Though they're only in diapers now, today's children are the future planet lovers, peace advocates, change makers, ocean stewards, humanitarians, global citizens, and wildlife protectors of tomorrow. Giving them a clean start makes it easy to feel hopeful for the future. That's why their Sensitive Protection diapers use only FSC Certified, sustainably sourced wood fluff pulp, and no chlorine bleaching, to help protect this future.

Their responsibility doesn't end with sustainable sourcing. While today's diapers are disposable, they're on a mission to find a zero-waste solution. And beyond developing products, Seventh Generation advocates for real change on climate justice and other issues that are important for the health of future generations. Thank you for joining us in caring today for the next seven generation.
This product is excluded from any special promotions or coupons.
Highlights

Features
A dry baby is a happy baby, and their diapers provide the 12-hour protection that keeps those smiles coming
The absorbent core in their diaper is not bleached or processed with chemicals containing chlorine, which prevents harmful toxins from entering waterways
Seventh Generation Baby Diapers FreshAIR Breathable Layer helps release humidity and pulls moisture away from baby's skin
Seventh Generation Free and Clear with 0% Lotions, or Chlorine Bleaching, and fragrance free diapers for babies
Seventh Generation Diapers are made using only FSC Certified, sustainably sourced plant-based pulp, which helps nurture our planet's forests
Shipping & Returns