Seventh Generation Free & Clear Baby Diapers with Animal Prints Mega Pack
Seventh Generation Free and Clear Baby Diapers with Animal Prints Mega Pack
is rated out of
5
by
24
.
- Max: 2
- We're sorry, this product is no longer available!
- Shop for other products in: Disposable Diapers

These safe + effective (and adorable!) diapers will help keep your baby's sensitive skin protected and dry. The ultra absorbent core in Seventh Generation diapers, made with sustainably-sourced fluff and 0% chlorine bleaching, helps prevent leaks. Seventh Generation designs these diapers to care for your baby as well as the health of the next seven generations.
Features:

High-capacity core absorbs 3x a standard wetting
Sustainably sourced materials help to protect forest habitats and the animals who depend on them
Double leg cuffs and stretchy waistband help control leaks
Large, easy-to-use tabs keep diapers snug through baby's twists and turns
New, soft quilted liner on smallest sizes (Newborn - 2) made with unbleached cotton to be extra gentle on new baby's skin

Did you know?
The best thing you can do to help prevent diaper rash is to keep baby's bottom clean and dry. Change diapers often, and make sure baby's skin is clean and dry before applying diaper cream or putting on a fresh diaper.


Disposing of soiled diapers:
Before you throw away a used diaper, empty the contents into the toilet, wrap the diaper tightly, and throw into the garbage. Do not flush the diaper.


Diaper safety information:
Please keep this packaging away from children and babies. This package, or a torn piece of diaper, could cause a choking or suffocation hazard for your child. Like any piece of clothing, diapers are flammable. Technical wicking layer pulls moisture away from skin to keep baby dry and comfortable.
*Please note packaging may vary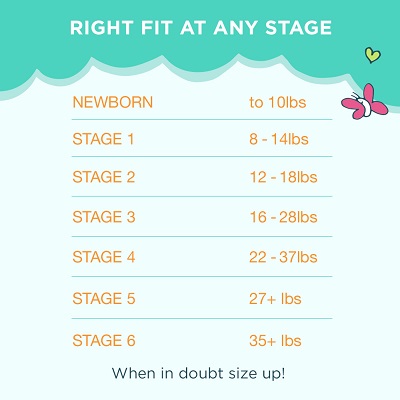 Other Seventh Generation Products
Rated

3

out of

5
by
Mom Mah
from
Used to be better
I bought these when my newborn was just few weeks old, I was trying every brand and this one was the one with no rashes and even clearing up rashes from other brands. It also stood up among them since it would stay dry and comfy for 3+ hours so it was perfect for our baby's sleep. I finished all the other brands and went on and bought Seventh Generation as main diapers. however the new ones have wetness indicators, and are super thin and give the same rashes as other brands. Need to be changed at least hourly, and not worth the price anymore.
Date published: 2021-08-30
Rated

5

out of

5
by
Josie
from
Recommended for extra sensitive skin babies
I'm so happy to finally found this gentle product for my young toddler's very sensitive skin. I've tried almost every diaper brands there is but failed me and my daughter's sensitive skin still keeps on rashing no matter how much diaper rash cream or cleansing l would do. Until I tried this product a month ago. To my surprise she never had flare ups since. I have placed my next order again and I will keep buying for more surely. I'm having another baby coming up, I would definitely use the same product for him.
Date published: 2020-08-09
Rated

1

out of

5
by
Shera
from
Fail… leaks even through the center of diaper
As much as I love this brand I can't love these diapers. Love their wipes and detergent but these diapers just don't live up to the standards of the rest of their products. I friend gave me an old pack of size 1's she had and they seemed good so after we ran out of the hello bello size 2's we tried these… they even had cute elephant prints so I was sold. Unfortunately after a whole day of using a bunch of their diapers and 4 outfit changed later I had to resort to using the last few hello bello diapers I luckily still had in the diaper bag. They not only leaked from the leg but it seams the entire diaper gets wet… after 15 mins I could feel wetness coming through… I don't even want to know what I would find if I used these overnight… sadly I will not be purchasing these again.
Date published: 2021-08-09
Rated

5

out of

5
by
Meghan
from
Best diapers!
These diapers are great! My son has been wearing them since he was born, with two exceptions as he outgrew one size but wasn't quite big enough for the next size up (a single packet of another brand for about a week was enough to bridge the gap). There's no weird smell or perfumes, and the materials are easy on the skin. Recommended for any parent to try. Very happy with these!
Date published: 2020-07-12
Rated

5

out of

5
by
Westgirl
from
No Rashes
When we had our daughter I stocked up on any diapers I could find on sale, not knowing which ones we'd like or not. I definitely found with these there were less rashes and they seemed to keep her more dry. My only complaint would be they seemed to run a little on the small size compared to other diapers in the same size. They are definitely my favourite diapers right now!
Date published: 2020-12-18
Rated

5

out of

5
by
Mjenn
from
Awesome diapers
We were using huggies till I ran out and grabbed a pack of these. I love them! Our little one has been struggling with diaper rashes and since we switched, shes been fine! They are a bit pricey (especially during these layoff times) but definitely the best "natural" diaper on the market. We tried other brands and they were terrible. Cant wait to try other products
Date published: 2021-01-12
Rated

5

out of

5
by
Mo1
from
A great natural diaper
We have been using these for almost a year now, after switching from honest diapers (due to price savings). These are really great if you do elimination communication (as we do) because they are thin and aren't that absorbent. They are nice and soft as well. My son has never had a diaper rash in them even with his sensitive skin.
Date published: 2020-03-23
Rated

5

out of

5
by
Sahola
from
Been using for months and will continue to use
I've been using these diapers for 6-7 months now and I will continue to buy. Got them initially because of the environmentally-friendly aspect, and was pleased with their function. I haven't had any leaks or explosions. I've been using the size 4 and now moving on to size 5 for my 13 month old (now 27lb).
Date published: 2020-11-07