Seventh Generation
Seventh Generation Free & Clear Baby Diapers with Animal Prints Mega Pack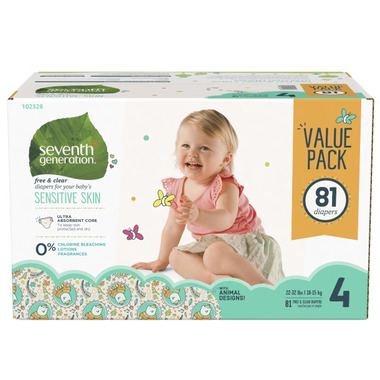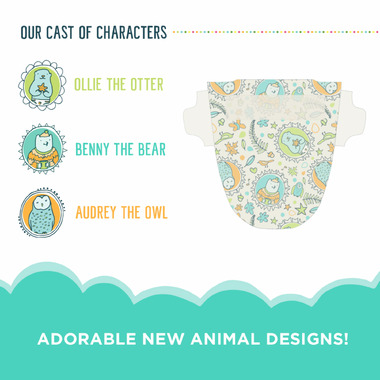 Seventh Generation
Seventh Generation Free & Clear Baby Diapers with Animal Prints Mega Pack
Description
These safe + effective (and adorable!) diapers will help keep your baby's sensitive skin protected and dry. The ultra absorbent core in Seventh Generation diapers, made with sustainably-sourced fluff and 0% chlorine bleaching, helps prevent leaks. Seventh Generation designs these diapers to care for your baby as well as the health of the next seven generations.
Features:

High-capacity core absorbs 3x a standard wetting
Sustainably sourced materials help to protect forest habitats and the animals who depend on them
Double leg cuffs and stretchy waistband help control leaks
Large, easy-to-use tabs keep diapers snug through baby's twists and turns
New, soft quilted liner on smallest sizes (Newborn - 2) made with unbleached cotton to be extra gentle on new baby's skin

Did you know?
The best thing you can do to help prevent diaper rash is to keep baby's bottom clean and dry. Change diapers often, and make sure baby's skin is clean and dry before applying diaper cream or putting on a fresh diaper.


Disposing of soiled diapers:
Before you throw away a used diaper, empty the contents into the toilet, wrap the diaper tightly, and throw into the garbage. Do not flush the diaper.


Diaper safety information:
Please keep this packaging away from children and babies. This package, or a torn piece of diaper, could cause a choking or suffocation hazard for your child. Like any piece of clothing, diapers are flammable. Technical wicking layer pulls moisture away from skin to keep baby dry and comfortable.
*Please note packaging may vary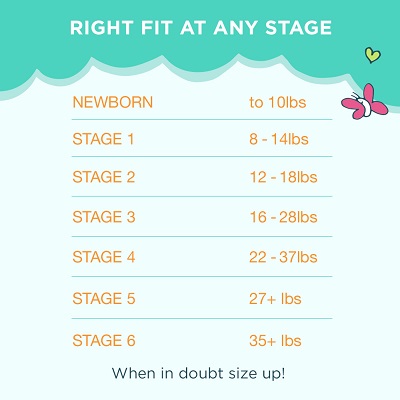 This product is excluded from any special promotions or coupons.
Highlights

Shipping & Returns