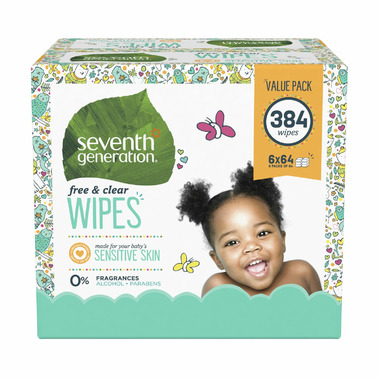 Description
It Works! Smooth, soft, and clean – the way a baby's bottom should be. Seventh Generation Free & Clear Baby Wipes are made for baby's sensitive skin and contain 0% fragrance, alcohol, parabens, or phenoxyethanol. The thick, soft wipes are strong enough for big messes while being gentle on newborn baby's most precious, delicate skin. These baby wipes are moistened with plant-derived skin conditioners like aloe vera and are safe for baby, hands, and face.

The tape-seal package design keeps wipes fresh while allowing for easy stacking on nursery shelf and convenient refill for wipe dispensers and warmers. Seventh Generation hypoallergenic and fragrance free wipes are dermatologist tested and clinically proven to be gentle on baby's skin. It's all good, baby. Caring for a little human is a magical undertaking, and Seventh Generation developed an entire line of baby skin care products, wipes, and diapers to bring peace of mind to your journey. For every life-changing milestone, you deserve baby care you can trust.

Seventh Generation Cares
Trusted for over a decade, parent-tested for baby's toughest messes. Keep a spare pack handy for clean up on the go. You'll love the way the generously sized wipes handle meal time spills, grubby hands and everything in between. A natural choice for baby's bottom, and gentle enough to use on messy mouths, hands, feet and everything in between.

Did you Know?
Seventh Generation is one of the nation's leading brands making household and personal care products with plant-based ingredients. The company lives its commitment of "caring today for seven generations of tomorrows". Products are formulated to provide mindful solutions for air, surfaces, fabrics, pets and people within your home—and for the community and environment outside of it.
Features:
Baby Care You Can Trust
Made for your baby's sensitive skin
Hypoallergenic baby wipes, clinically proven gentle on skin
0% alcohol, fragrances, parabens
Thick & soft baby wipes for messy messes
Safe for baby's hands, face, and bottom
This product is excluded from any special promotions or coupons.
Highlights

Shipping & Returns