Seventh Generation Baby Free & Clear Diapers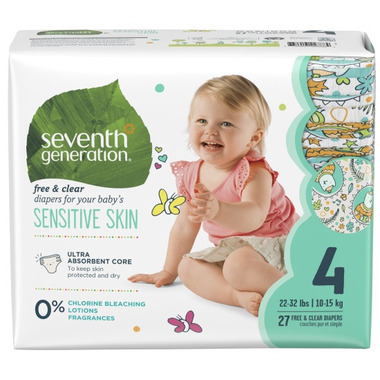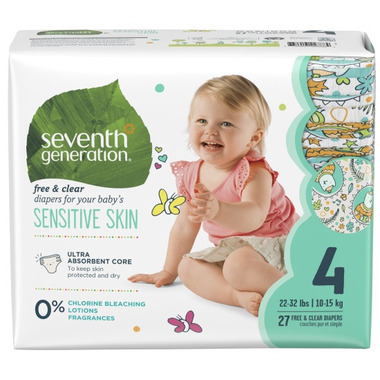 Seventh Generation Baby Free & Clear Diapers
| | | | | |
| --- | --- | --- | --- | --- |
| | | Size 1 | 8-14 lbs | $13.99 |
| | | Size 2 | 12-18 lbs | $13.99 |
| | | Size 3 | 16-24 lbs | $13.99 |
| | | Size 4 | 22-32 lbs | $13.99 |
| | | Size 5 | 27+ lbs | $13.99 |
| | | Size 6 | 35+ lbs | $13.99 |
Colour Not Shown
Colour Not Shown
Please note Packaging May Vary
NEW! Same trusted diaper - adorable new designs! Introducing Protection For All printed diapers! For a limited time, packaging may vary.
When baby's this comfortable, you know you've made the right choice. They combined premium absorbency with a snug, comfy fit around the legs and adjustable, re-sealable tabs for a flexible but secure diaper. For the times when you want the convenience of a disposable, our chlorine-free, unbleached diapers give you a mindful choice.
Features:
0% chlorine bleaching, the fluffy core of our diapers is not processed with chlorine
Disposable diapers with an ultra-absorbent core for premium leak protection
Absorbs 100%! A fresh diaper completely absorbs a typical tinkle amount when tested in a laboratory
Hypoallergenic diapers made for sensitive skin without chlorine, lotions, or fragrances
Meet the troop of friendly, forest-loving animals whose habitats our FSC Certified Diapers work to protect, three engaging characters will join you on your diapering journey
Clinically proven to be gentle on baby's skin, hypoallergenic
Responsibly sourced; The first ever FSC Certified Diaper in North America
Free of lotions, latex and fragrances
Seventh Generation diapers are made of chlorine free wood pulp fluff, sodium polyacrylate (also referred to as SAP or absorbent gel), polyolefin nonwoven fabric, adhesives, polyolefin film, synthetic rubber elastic strands

The colour of disposable diapers is typically achieved through the addition of color pigments to their inner and outer cover materials. This is also true for Seventh Generation diapers. While most designs on the market use pigments that result in a white colour, we use a small amount of blended colour pigments to impart a tan color to our diapers. The blend is proprietary to the supplier of the pigment. To the best of our knowledge, there are no known toxicity issues associated with the use of these pigments in our diapers. Without the addition of colour pigments, these materials would be colourless, much like a plastic milk jug. We use brown pigments to help distinguish Seventh Generation Chlorine Free Diapers from others in the marketplace that are bleached with chlorine-containing substances.

All disposable diapers, including Seventh Generation's, rely on man-made materials to deliver the high-level performance that parents expect of modern diapers. These materials are mostly petroleum-derived and are not renewable, which adversely impacts the environmental footprint associated with these products. At Seventh Generation, we are pleased to offer an alternative that is not bleached with chemicals containing chlorine, and are working hard to further improve the sustainability of our diaper products.