Seventh Generation Free & Clear Baby Diapers with Animal Prints Mega Pack
Seventh Generation Free and Clear Baby Diapers with Animal Prints Mega Pack
is rated out of
5
by
13
.
Colour Not Shown
Colour Not Shown
Colour Not Shown
These safe + effective (and adorable!) diapers will help keep your baby's sensitive skin protected and dry. The ultra absorbent core in Seventh Generation diapers, made with sustainably-sourced fluff and 0% chlorine bleaching, helps prevent leaks. Seventh Generation designs these diapers to care for your baby as well as the health of the next seven generations.
Features:

High-capacity core absorbs 3x a standard wetting
Sustainably sourced materials help to protect forest habitats and the animals who depend on them
Double leg cuffs and stretchy waistband help control leaks
Large, easy-to-use tabs keep diapers snug through baby's twists and turns
New, soft quilted liner on smallest sizes (Newborn - 2) made with unbleached cotton to be extra gentle on new baby's skin

Did you know?
The best thing you can do to help prevent diaper rash is to keep baby's bottom clean and dry. Change diapers often, and make sure baby's skin is clean and dry before applying diaper cream or putting on a fresh diaper.


Disposing of soiled diapers:
Before you throw away a used diaper, empty the contents into the toilet, wrap the diaper tightly, and throw into the garbage. Do not flush the diaper.


Diaper safety information:
Please keep this packaging away from children and babies. This package, or a torn piece of diaper, could cause a choking or suffocation hazard for your child. Like any piece of clothing, diapers are flammable. Technical wicking layer pulls moisture away from skin to keep baby dry and comfortable.
*Please note packaging may vary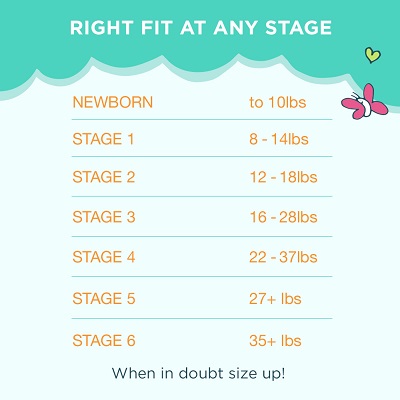 Rated

5

out of

5
by
Josie
from
Recommended for extra sensitive skin babies
I'm so happy to finally found this gentle product for my young toddler's very sensitive skin. I've tried almost every diaper brands there is but failed me and my daughter's sensitive skin still keeps on rashing no matter how much diaper rash cream or cleansing l would do. Until I tried this product a month ago. To my surprise she never had flare ups since. I have placed my next order again and I will keep buying for more surely. I'm having another baby coming up, I would definitely use the same product for him.
Date published: 2020-08-09
Rated

5

out of

5
by
Meghan
from
Best diapers!
These diapers are great! My son has been wearing them since he was born, with two exceptions as he outgrew one size but wasn't quite big enough for the next size up (a single packet of another brand for about a week was enough to bridge the gap). There's no weird smell or perfumes, and the materials are easy on the skin. Recommended for any parent to try. Very happy with these!
Date published: 2020-07-12
Rated

5

out of

5
by
Mo1
from
A great natural diaper
We have been using these for almost a year now, after switching from honest diapers (due to price savings). These are really great if you do elimination communication (as we do) because they are thin and aren't that absorbent. They are nice and soft as well. My son has never had a diaper rash in them even with his sensitive skin.
Date published: 2020-03-23
Rated

1

out of

5
by
Bmac
from
Disappointed
This diaper did not even last an hour without leaking with a one month old there are other natural diapers out there that perform way better. Definitely need to step up the game again before I would try them. I really didn't want these to work but they didn't.
Date published: 2020-02-06
Rated

5

out of

5
by
Shaq
from
We've been using these for our toddler since she was a newborn and planning to use them on our new baby as well. They are the best natural diapers we've tried and we have virtually no problems with leakage or rashes.
Date published: 2020-05-19
Rated

5

out of

5
by
Noras
from
Best diapers, no rash ever
Have always used seventh generation and all three babies never had a rash. used others a odd times because nothing else available and after a couple of days rash appeared. 5 stars all the way
Date published: 2020-09-21
Rated

5

out of

5
by
M.B.
from
Our favorite diapers
These have no chemical smell, the designs are adorable and they hold well. It's important to size correctly to prevent leaks (which is probably true with any diapers).
Date published: 2020-04-15
Rated

5

out of

5
by
Becky
from
Very reliable
These are the only diapers I've used for my daughter for over two years. They're durable and reliable. Plus I enjoy the ethos of the company.
Date published: 2020-05-27