Seventh Generation Natural Automatic Dishwasher Packs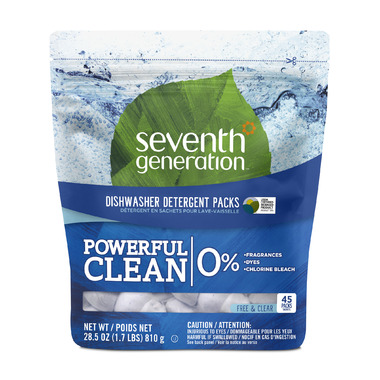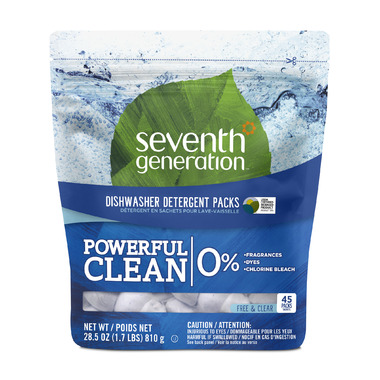 Seventh Generation Natural Automatic Dishwasher Packs


IT WORKS:
Seventh Generation easy-to-use Dishwasher Detergent Packs give you the perfect amount of grease-fighting dishwasher detergent for a total clean the first time, leaving your dishes with a streak-free shine.
WE CARE:
Seventh Generation enzyme-rich biodegradable formula powers away 48 hour stuck on food without chlorine, phosphates or fragrances. It's a convenient, no mess, no hassle, no measuring, fragrance free alternative to traditional powders and gels. Dishwasher detergent packs make life easy! No need to measure dishwashing detergent-just place one, single-use dishwasher detergent pack into your dishwasher to remove dinner's grease and grime. It's a convenient, no mess alternative to traditional dishwashing detergent powders and dishwasher gels. Discover the power of plants in these biodegradable dish packs. The lemon scent is derived from whole essential oils and botanical lemon extracts.

Features:
Dish Packs contain no chlorine, phosphates or synthetic fragrances
Enzyme-rich, biodegradable dishwashing formula
Dishwasher Packs remove even dried, stuck-on food
Convenient single use dishwasher packs leave your dishes sparkling clean and with a streak-free shine
Single dose dishwasher packs are the convenient no mess, no hassle, no measuring solution that will save you time
Dishwasher packs come in an easy to use re-sealable pouch
Usage Instructions:
Load Dishwasher: Make sure items can be safely washed in a dishwasher. Silver, aluminum and stainless steel should be washed in separate loads to avoid discoloration. Load items with soiled surfaces facing the center of the bottom rack for optimum dishwashing.

Add Dishwasher Detergent Pack: Use one natural dishwasher detergent pack per load. Do not unwrap or puncture pack. Do not handle dishwasher pack with wet hands. Place pack in main dispenser cup and close immediately.
Re-seal package after use and store in a dry place out of reach of children.

Did You Know?
Don't mix your metals in the dishwasher! Wash aluminum, stainless steel and silver in separate loads to avoid discoloration.

Ingredients: Sodium carbonate (mineral-based cleaning agent), citric acid (plant-derived water softener), sodium sulfate (mineral-based processing aid), sodium percarbonate (mineral-based oxygen stain removal agent), ppg-10-laureth-7 (plant-modified synthetic cleaning agent), sodium polyaspartate (synthetic anti-filming agent), sodium silicate (mineral-based cleaning enhancer), protease enzyme blend (plant-based soil remover), sodium aluminosilicate (mineral-based water softener), amylase enzyme blend (plant-based soil remover). Film: Polyvinyl alcohol (synthetic water soluble film), Glycerin (plant-derived processing aid).
Caution: Harmful if swallowed. May irritate eyes.