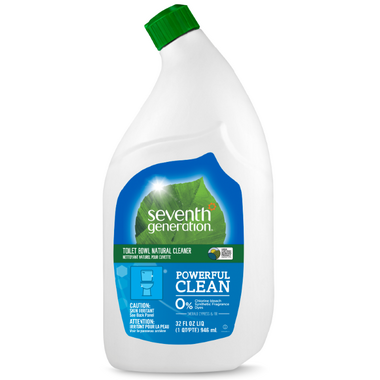 Description
Most conventional toilet bowl cleaners are made from strong acids or caustics that can cause serious burns to your skin. Seventh generation toilet bowl cleaner will clean as well as products containing these harsh chemicals without the risk of skin burns or damage to the environment. Seventh Generation Emerald Cypress & Fir scent toilet bowl cleaner is made from 100% essential oils and botanical extracts. This cleaner will freshen your toilet without creating harsh fumes.

Features:
Seventh Generation formula is biodegradable and septic safe
They don't add chlorine bleach, synthetic fragrances, dyes or other harsh ingredients to this formula
At Seventh Generation they do business differently. They believe their products are healthy solutions for use within your home–and for the community and environment outside of it
They are always evaluating how to reduce their environmental impact, increase performance and safety, and create a more sustainable supply chain
Seventh Generation believes it is their responsibility to set a course for a more mindful way of doing business, where companies act as partners with other stakeholders to create a brighter future for the whole planet
Seventh Generation is proud to be a Certified B Corporation. B Corps are certified to be better for workers, better for communities, and better for the environment. By choosing Seventh Generation household cleaners, you're joining us in nurturing the health of the next seven generations
Ingredients: Water, lactic acid (plant-derived demineralizer), caprylyl/myristyl glucoside (plant-derived cleaning agent), xanthan gum (plant-derived thickener). Fragranced with plant-based essential oils and botanical extracts*. Emerald Cypress & Fir: Abies balsamea (balsam fir), citrus aurantifolia (lime), cupressus sempervirens (cypress).

Highlights

Shipping & Returns