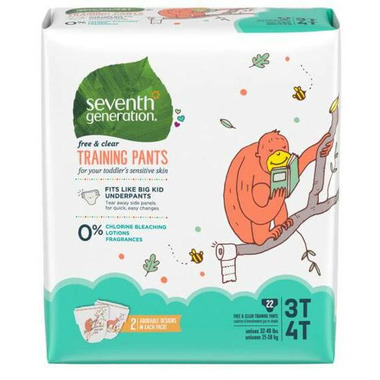 Description
Training pants aren't supposed to be a hassle. They shouldn't be hard to pull up, down or get off. Most importantly, they should always soak up leaks with as little fuss as possible. Seventh Generation has got those bottoms covered!

Seventh Generation Free and Clear Training Pants feature leak barriers and an absorbent, lightweight core for ultimate protection. The stretchy, tear away side panels allow for quick and easy clean up. The stretchy fit of their training pants means they stay put – even if your little one is a wiggler who's always on the move.

Potty training is a big step for your little one. Seventh Generation Free and Clear Training Pants keep those little oopsies from becoming big deals while your toddler learns to take control. Plus, they're designed to be kind to little bottoms: no fragrances, petroleum-based lotions, or chlorine processing included.

DID YOU KNOW? All their diapers are free from chlorine processing so chlorinated toxins are not released into the environment.

Diaper safety information: Please keep this packaging away from children and babies. This package, or a torn piece of diaper, could cause a choking or suffocation hazard for your child. Like any piece of clothing, diapers are flammable.

Materials:
Chlorine free wood pulp*, mixture of plant-derived polysaccharide* and sodium polyacrylate (absorbent pad), polylactide* (dryness layer), polypropylene and polyethylene (seams and joints), polymer spandex and polyurethane (tummy band and leg/waist elastic), inks (designs), pigments
This product is excluded from any special promotions or coupons.
Highlights

Features
Ultimate Leak Protection
Comfortable, Adjustable Fit
Free of Chlorine Processing
Stretchy, tear-away side panels for custom fit and clean-up convenience
Training Pants that are hypoallergenic and free of fragrances
Training Pants free of petroleum-based lotions
Shipping & Returns