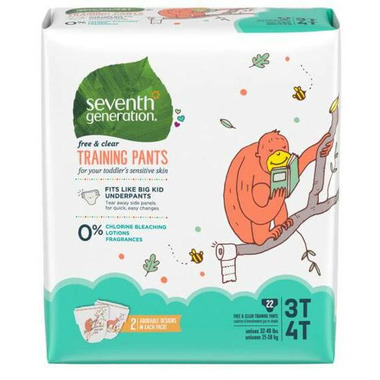 Size 2T-5T
Seventh Generation Training Pants
is rated out of
5
by
40
.
---
Description
Training pants aren't supposed to be a hassle. They shouldn't be hard to pull up, down or get off. Most importantly, they should always soak up leaks with as little fuss as possible. Seventh Generation has got those bottoms covered!

Seventh Generation Free and Clear Training Pants feature leak barriers and an absorbent, lightweight core for ultimate protection. The stretchy, tear away side panels allow for quick and easy clean up. The stretchy fit of their training pants means they stay put – even if your little one is a wiggler who's always on the move.

Potty training is a big step for your little one. Seventh Generation Free and Clear Training Pants keep those little oopsies from becoming big deals while your toddler learns to take control. Plus, they're designed to be kind to little bottoms: no fragrances, petroleum-based lotions, or chlorine processing included.

DID YOU KNOW? All their diapers are free from chlorine processing so chlorinated toxins are not released into the environment.

Diaper safety information: Please keep this packaging away from children and babies. This package, or a torn piece of diaper, could cause a choking or suffocation hazard for your child. Like any piece of clothing, diapers are flammable.

Materials:
Chlorine free wood pulp*, mixture of plant-derived polysaccharide* and sodium polyacrylate (absorbent pad), polylactide* (dryness layer), polypropylene and polyethylene (seams and joints), polymer spandex and polyurethane (tummy band and leg/waist elastic), inks (designs), pigments
This product is excluded from any special promotions or coupons.
Highlights

Features
Ultimate Leak Protection
Comfortable, Adjustable Fit
Free of Chlorine Processing
Stretchy, tear-away side panels for custom fit and clean-up convenience
Training Pants that are hypoallergenic and free of fragrances
Training Pants free of petroleum-based lotions
Shipping & Returns
Rated

3

out of

5
by
Xen360
from
(This review was collected as part of a promotion.) #gotitfree I was lucky enough to be chosen to try these training pants out for my opinion. My comments are my opinion and mine alone. I really liked that the training pants held up to any accidents as we are just at the very beginning stages of potty training. I think i was just a bit disappointed that there was no indication if there was a front or a back. I tried them both ways and it didn't seem to make a difference but I did scratch my head a bit on the first use. I would recommend these to a friend for sure. I like that they are more planet friendly and by a name I am learning to trust.
Date published: 2017-11-09
Rated

4

out of

5
by
Bcqtpie604
from
(This review was collected as part of a promotion.) Sorry if you've read a review from me twice! We love all Seventh Generation products so when I got the chance to try these as we #gotitfree we were excited! The designs were adorable, you get 2 in each package and made my lil guy want to try these! I'm not a fan of the feeling but they did their job well! No spills which is great and they were easy on and easy off! If you haven't tried these yet I totally would! A lot less harmful for the environment which is great, diapers and such take forever to break down. I would totally recommend these to family and friends! Thanks again!!
Date published: 2017-11-13
Rated

5

out of

5
by
Nestea18
from
(This review was collected as part of a promotion.) My son absolutely loved using Seventh Generation Free And Clear Training Pants they are super adsorbent and fits him perfectly. He was comfortable using them and did not get a rash. My son's skin is very sensitive so I have to be extra carful when trying new products. I also like the fact that there is zero bleaching, lotions or fragrances it is fantastic. My son likes the designs on the front of the diapers. Overall I give Seventh Generation Free And Clear Training Pants two big thumbs ups. I am so happy to have received this product to try for free.
Date published: 2017-10-21
Rated

5

out of

5
by
Imacoolmom
from
(This review was collected as part of a promotion.) Fits great on my 23 months old! I like that they are stretchy and the sides tear away. My little one hasn't experienced any leaks since switching to seventh generation and I feel like the material is very breathable and she is less likely to get a diaper rash. My daughter likes the Monkey on these and is excited to put on her training pants. I will definitely be repurchasing from the seventh generation website, it is easy to use and has all the information I was looking for but best of all my package arrived in just two days !
Date published: 2017-11-01
Rated

5

out of

5
by
Grassa63
from
(This review was collected as part of a promotion.) I received this product for free to test and review from family rated & seventh generation. I have to say that these are pricey compared to the brand I usually buy but......the quality is amazing! It is worth every penny! My son actually told me how soft it was. It didn't leave him with red irritation marks on the side of his hips and inner thighs. It also was easy to pull on and off and did not bunch up in a weird way. I highly recommend! Thank you for the opportunity to try this product and for the extra goodies!
Date published: 2017-11-02
Rated

4

out of

5
by
nothing2wear
from
(This review was collected as part of a promotion.) As far as diapers go Seventh Generation has always been our go-to brand. Our daughter has skin snetivities and is allergic to every other brand of diapers. Trust me, EVERY! We had tried them all, before discovering Seventh Generation. The training pants are no expection, they are still the same great quality, and sensitive on her skin. The only thing is that be warned they are not necessarily great for bed time, i did experiance several leaks over the past few weeks and that never happens with their regualr diapers.
Date published: 2017-10-23
Rated

5

out of

5
by
Jules
from
Great pull-ups!
My little one has very sensitive skin and we have been through all the different diaper brands. Seven generation is the only one that does not make him react. So happy theY also have these pull-ups! They are light and very flexible. Price is higher than regular pull-ups so I keep an eye on sales
Date published: 2020-01-28
Rated

4

out of

5
by
domips
from
(This review was collected as part of a promotion.) Through the Family Review Product Club, we received those pull-ups diapers (#gotitfree ;-)), and the timing couldn't have been more perfect as my 2 years old girl is working on potty training. These diapers are great. We didn't experience any leak (even with poopy bottoms). Easy to put on, I like the cute soft designs on them. I just wished that they had reopenable sides, instead of tearing them up. Good alternative if you are looking for more ecofriendly diapers without going cloth.
Date published: 2017-10-25