Similac Step 1 Lower Iron Milk-Based Infant Formula Powder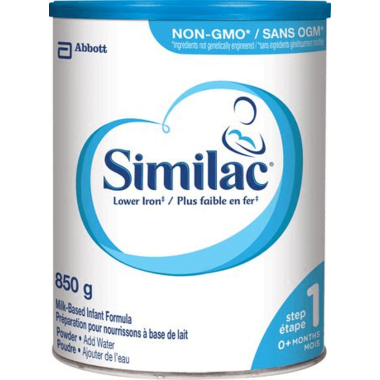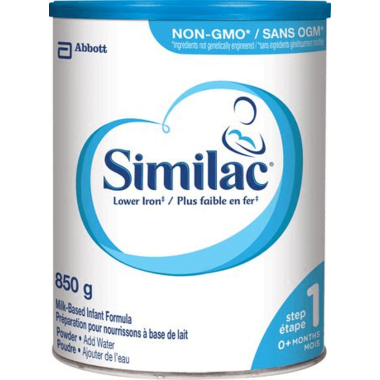 Similac Step 1 Lower Iron Milk-Based Infant Formula Powder
Feed Similac® Lower Iron to your baby with confidence. It is a nutritionally complete† infant formula that contains less iron than other Similac® formulas (0.65 mg vs 1.2 mg of iron per 100 mL of formula). It is designed to help support your baby's normal growth and development.

Features:
Low in iron
Contains a patented blend of Nucleotides

Does not contain palm oil
Kosher
Non-GMO

Ingredients:
Skim milk, lactose, high oleic sunfl ower oil,soy oil, coconut oil, whey protein concentrate, potassiumcitrate, whey protein hydrolysate, calcium carbonate, soylecithin, ascorbic acid, choline bitartrate, magnesium chloride,sodium chloride, potassium chloride, taurine, L tryptophan,m-inositol, ferrous sulphate, cytidine 5 monophosphate,ascorbyl palmitate, disodium guanosine 5 monophosphate,disodium uridine 5 monophosphate, zinc sulphate, adenosine5 monophosphate, d tocopheryl acetate, mixed tocopherols,niacinamide, L carnitine, calcium d pantothenate, vitamin Apalmitate, copper sulphate, thiamine hydrochloride, pyridoxinehydrochloride, ribofl avin, manganese sulphate, - carotene,folic acid, potassium iodide, phylloquinone, biotin, sodiumselenate, vitamin D3, cyanocobalamin. May contain: tricalciumphosphate. Contains: milk, soy.