Similac Step 2 Iron-Fortified Calcium Enriched Infant Formula Powder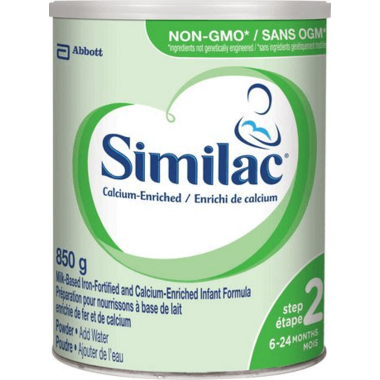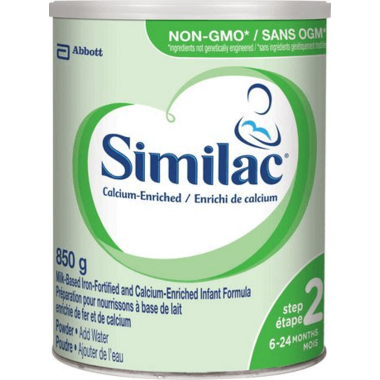 Similac Step 2 Iron-Fortified Calcium Enriched Infant Formula Powder
Similac® Step 2 is calcium-enriched to support the growth of babies 6-24 months as they transition to a variety of solid foods and cow's milk. Formerly known as Similac® Go & Grow®, Similac® Step 2 is an easy-to-digest, non-GMO formula.
Features:

Similac Go & Grow is a milk based, iron fortified formula designed for babies 6 to 24 months old, eating cereal and baby foods
Specifically formulated to help bridge the nutritional gaps that can be associated with the transition to table foods
Contains a patented blend of Nucleotides (72mg per litre)
Does not contain palm olein oil
Kosher
Non-GMO

Ingredients:
Skim milk, lactose, high oleic sunfl oweroil, soy oil, coconut oil, whey protein concentrate, potassiumcitrate, whey protein hydrolysate, tricalcium phosphate,calcium carbonate, soy lecithin, ascorbic acid, cholinebitartrate, magnesium chloride, potassium chloride, sodiumchloride, ferrous sulphate, taurine, L tryptophan, m inositol,cytidine 5 monophosphate, ascorbyl palmitate, disodiumguanosine 5 monophosphate, disodium uridine 5 monophosphate,zinc sulphate, adenosine 5 monophosphate, d tocopheryl acetate, mixed tocopherols, niacinamide, L carnitine, calcium d pantothenate, vitamin A palmitate, coppersulphate, thiamine hydrochloride, pyridoxine hydrochloride,ribofl avin, manganese sulphate, carotene, folic acid,potassium iodide, phylloquinone, biotin, sodium selenate, vitamin D3, cyanocobalamin. Contains: milk, soy.