Similasan Kids Cold & Mucus Relief Cough Syrup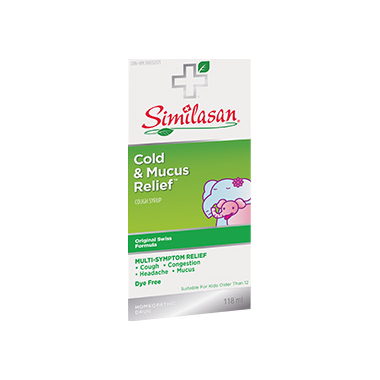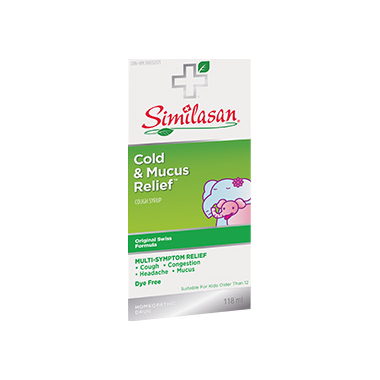 Similasan Kids Cold & Mucus Relief Cough Syrup
You want your child to feel better. That's why Similasan created Similasan Kids Cold & Mucus Relief cough syrup to stimulate the body's ability to temporarily relieve the symptoms of the common cold.
Features:
Suitable for Kids 12 and Up
Dye-Free
Multi-Symptom: Relieves Cough, Chest Congestion, Headache, and Increased Mucus Production
Uses:
Homeopathic drug to temporarily relieve symptoms associated with the common cold, such as: cough, chest congestion, headache, and increased mucus production.
Medicinal ingredients:
Stibium sulfuratum aurantiacum, Antimonium sulfuratum aurantiacum (mixture of antimony(V) sulfide and sulfur) 12X; Kalium iodatum, Kalium jodatum (potassium iodide) 12X; Polygala senega, Senega (dried and usually fragmented root and root crown) 8X
Non-medicinal Ingredients:
Purified water, D-Sorbitol, Sodium chloride, Potassium sorbate, Citric acid
Directions:
Children aged 12+ Dose: 5 ml, Frequency: 3 to 6 times daily (every 4 hours).
Or use as directed by a health care practitioner.
Warnings:
Consult a health care practitioner be-fore use if pregnant or breast feeding. Consult a health care practitioner if symptoms persist for more than 7 days or worsen. Keep this and all medications out of the reach of children. Do not use if tamper-evident seal is broken. In case of accidental overdose, get medical help or contact a Poison Control Center immediately. Do not exceed recommended dosage.