Similasan
Similasan Pink Eye Relief Eye Drops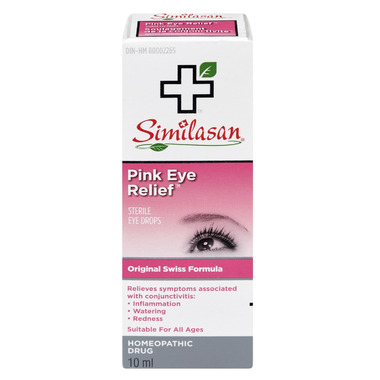 Similasan
Similasan Pink Eye Relief Eye Drops
Description
The redness and swelling of viral, environmental, or allergic conjunctivitis can really disrupt your day.

Similasan's Pink Eye Relief sterile eye drops are specifically formulated to address those symptoms associated with viral or environmental conjunctivitis, along with sensation of grittiness, watery discharge, burning, and redness of the inner eyelids. Because the active ingredients are homeopathic, Pink Eye Relief is safe to use all day. Pink Eye Relief does not contain an antibiotic and so should not be used with bacterial conjunctivitis and/or if you are experiencing a thick discharge that is white, yellow or green and may glue the eye shut- you should see your doctor. Help your eyes to feel better with Similasan's Pink Eye Relief sterile eye drops, so you can get back to your day.

Uses: According to homeopathic principles, the medicinal ingredients in this medication temporarily relieve minor symptoms associated with viral and environmental conjunctivitis, such as: inflammation and redness of the whites of the eyes and inner eyelids; excessive watery (clear) discharge; sensation of grittiness; and sensitivity to light.

Medicinal ingredients: Atropa belladonna, Belladonna* (whole plant) 6X; Euphrasia officinalis L., Eyebright (whole plant) 6X; Hepar sulfuris calcareum, Hepar sulfuris (calcium sulfide) 12X

Non-medicinal ingredients: Purified water, Sodium nitrate, Borax, Boric acid (as buffering agents), Silver sulphate (as preservative)

Directions: For adults, children, and infants. Remove tamper-evident seal from neck of bottle. Twist cap off bottle. Squeeze plastic tip to release 2-3 drops into eye. Apply as needed up to 72 hours. Replace cap after use.

Warnings: For external use only. While this product is suitable for all ages, children with conjunctivitis should be seen by a physician. Use of this product by more than one person could spread infection. Initial exacerbation of symptoms may occur. Use only if bottle seal is intact. Replace cap tightly after every use. To avoid contamination, do not touch the tip of the container to any surface. Contact wearers: consult a physician prior to using. If pregnant, consult a physician before using. Discard open bottle after 30 days. Keep this and all medicines out of the reach of children.

Do not use: If you are experiencing a thick, white, yellow or green discharge that forms a crust on the eye lid; if the solution changes color or becomes cloudy; if you experience eye pain or changes in vision; if you frequently contract infections that don't clear up easily.

Stop use and ask a doctor if: Symptoms worsen or persist for more than 72 hours; changes in vision occur, or if you might have a serious underlying medical cause for the infection.
Shipping & Returns
Unfortunately, due to the nature of this item, we cannot accept any returns.
We are only able to ship this item to Canadian customers.
Click here for more information