Similasan Stye Eye Relief Single-Use Droppers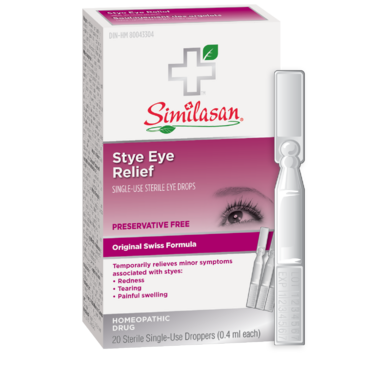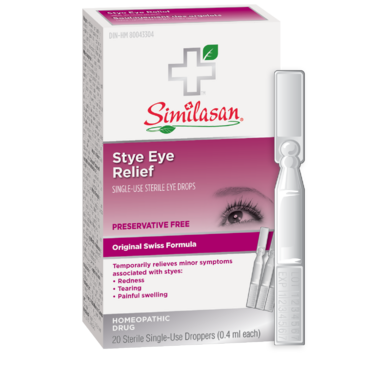 Similasan Stye Eye Relief Single-Use Droppers
It starts with tenderness and redness around the eye – the beginnings of a stye. Now you have a way to soothe the discomfort you feel.

Similasan's Stye Eye Relief sterile eye drops stimulate the body's natural ability to relieve symptoms of styes, such as redness, burning, dryness, and tearing.

Uses: According to homeopathic principles, the active ingredients in this medication temporarily relieve minor symptoms associated with styes, such as redness, burning, dryness and tearing.

Medicinal ingredients: Conium maculatum 6X, Graphites 12X, Sulphur 12X

Non-medicinal ingredients: Purified Water, Sodium phosphate, monobasic, dihydrate, Disodium phosphate anhydrous (as buffering agents), lactose

Directions: Adults and children age 12 and over: Apply 2-3 drops, 3 times per day. Children 1-11: Apply 1-2 drops, 3 times per day. Acute dosing: 1 drop in the affected eye every 15 minutes for a maximum of 3 hours. Remove a single-use dropper. Twist flat end with ball to remove. Squeeze plastic dropper to release 2-3 drops into eye and discard applicator. Apply as needed throughout the day or night. Use a new dropper for every application. If desired, use with a warm, moistened washcloth placed directly on eyelid.

Warnings: For external use only. Initial exacerbation of symptoms may occur. Use only if bottle seal is intact. Replace cap tightly after every use. To avoid contamination, do not touch the tip of the container to any surface. Do not reuse. Once opened, discard. Contact wearers: consult a physician prior to using.

Do not use: if solution changes colour or becomes cloudy or if the condition is accompanied by fever.

Stop use and ask a doctor if: Symptoms worsen or persist for more than 72 hours, changes in vision occur or you experience eye pain, the stye enlarges, or the stye opens, draining discharge or pus into the eye.
WIlliam:
more than a year ago
I was skeptical about using this product because no other product has worked for my sty's. My sty's are quite painful and large and I have only been getting them for a couple of years now and when they come they are large, red and extremely swollen and will last for a few weeks and then take a couple of months to go away completely. This is not acceptable to me but what choice do I have to just accept it and deal with them the best way I can....until these eye drops! I tried them a few weeks back when I started getting another sty and I was blown away! Within 1 week there was nothing left of it...nothing at all. The drops are easy to use and help the swelling and alleviate the symptoms. I was shocked that something actually worked. I generally do not take the time to submit user reviews but wanted to because if there is anyone else like me that deals with the pain and embarrassment of sty's, they need to at least try this and see if it works for them!
Page
1