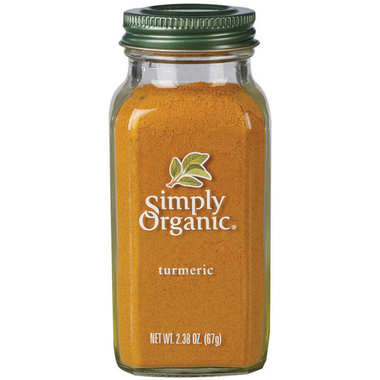 67 g
Simply Organic Turmeric
is rated out of
5
by
59
.
---
Description
Simply Organic® ground Turmeric root has a deep golden-yellow color and a distinctive, aroma. Its flavor resembles both ginger and pepper. Indispensable in curry powders and East Indian cooking, turmeric is also used in mustard, dressings, eggs and rice dishes.
Ingredients: Organic Turmeric
Highlights

Shipping & Returns
Rated

1

out of

5
by
Jessie
from
I think that my jar was defected. There was extra black particles once wet that felt like texture of sand grains. Made a check with the expiration date and it was still okay. Didn't seem right still and reported it about it. After report got a new replacement, the two were separate colours and smell. The old jar looked darker and didn't have as much smell, maybe it was stale that could by why it tasted like sand grains. The new one is a lot more fine, doesn't have the black dirt looking particle and sand grain feeling. Will discontinue use of the original and hope that the replacement is safe now.
Date published: 2016-07-19
Rated

5

out of

5
by
Patricia
from
I switched a lot of my spices for the Simply Organic brand. I love that they are organic and packaged in glass, not plastic. They are well priced considering the size of the jar.
Date published: 2013-04-09
Rated

5

out of

5
by
MB
from
Good product. This spice can be used in different ways. It can be used for cooking, but I've heard of people using it for other reasons. Can even be applied to skin, and can be rubbed on certain spots for an anti-inflammatory effect. If you research this online, you'll come across some interesting remedies that involve turmeric.
Date published: 2014-04-18
Rated

5

out of

5
by
Alexandra
from
I'm on my second bottle. I put this in almost everything. Omelettes, salads, rice, spaghetti, anything that is stir-fried, tea etc. It doesn't have a very strong taste it just adds a hint of "tastiness" to things and it is incredibly healthy to eat. Definitely a quality product that has become a staple in my pantry.
Date published: 2014-08-13
Rated

5

out of

5
by
SUSAN
from
The simply Organic line is superlative. The jars are a generous size and of a design that sits well either on a shelf or lying flat in a drawer. The opening is generous and easy to use for measuring spoons. This tumeric is very fresh, fragrant and possibly the best I have ever used.
Date published: 2016-02-13
Rated

5

out of

5
by
Sarthak
from
I noticed I was getting a headache when I was using regular turmeric bought from the local Asian market, so I threw that out and I have been making Japanese turmeric tea with this product for the last week with fantastic results. Great for the skin and mind.
Date published: 2012-04-17
Rated

5

out of

5
by
Sheila
from
I add this turmeric powder to Lundberg Indian Basmati rice along with curry powder which adds flavour to the already delicious rice. I also tried it sprinkled into a bag of plain potato chips, shake the bag and presto, you get an exotic tasting chip.
Date published: 2015-09-23
Rated

5

out of

5
by
Penny
from
after using grocery store product all my life- I tried this organic turmeric. Could not believe the difference, the freshness, no fillers -doesn't taste like sand. I will never go back.
Date published: 2016-11-21