Simply Organic Vegetarian Brown Gravy Mix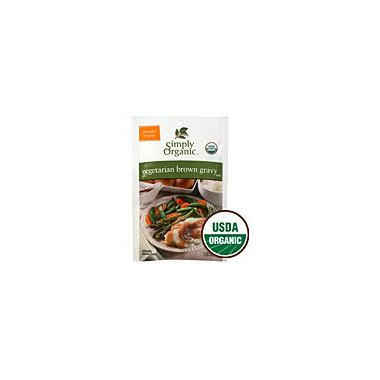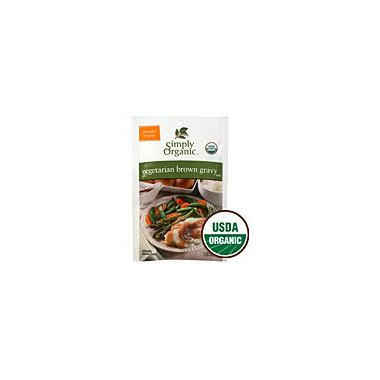 Simply Organic Vegetarian Brown Gravy Mix
Simply Organic Vegetarian Brown Gravy . . . Stop drooling. This is what happens when we let our vegetarian expert alone in the kitchen. We have just two words for her. Any. Time.
Processing Notes:
Simply Organic uses ingredients grown and processed without the use of toxic pesticides, irradiation, or genetically engineered products.
Organic: QAI Certified Organic
Ingredients:
Organic Potato Starch, Organic Rice Flour, Organic Corn Syrup Solids, Organic Yeast Extract (Organic Yeast Extract, Sea Salt, Organic Sunflower Oil), Sea Salt, Natural Vegetarian Flavor (Natural Flavor, Organic Yeast Autolyzate [Wheat], Organic Maltodextrin, Sea Salt, Organic Caramel Color), Organic Carrot, Organic Onion, Organic Tomato (Organic Tomato, Guar Gum), Malt Extract, Organic Garlic, Silicon Dioxide.
Contains: Wheat
Kellie:
more than a year ago
I am so glad I found this gravy! I've been vegetarian for just over a year and I have missed my go to comfort food of mashed potatoes and gravy. I've tried to make my own from scratch a few times but it never really turns out. This mix is super easy to prepare and it tastes really good. This will be going on my order every time I visit Well.ca!
Nicole:
more than a year ago
My husband and I love this vegetarian gravy. It does taste a lot like a meat gravy. It has lots of flavour and can be used with anything you would use regular gravy with. I am a vegetarian but my husband occasionally eats meat, and this gravy works for both of us. We were quite worried recently when it was out of stock because if it was being discontinued there is nothing else like it. Glad to see its back in stock!
Page
1