SISU
SISU 7 Joint Complex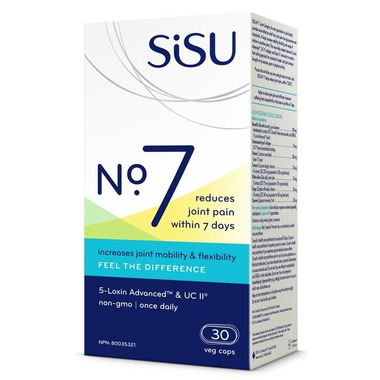 SISU
SISU 7 Joint Complex
30 Capsules
SISU 7 Joint Complex
is rated out of
5
by
6
.
---
Description
Helps to relieve joint pain and stiffness in persons suffering from osteoarthritis in the knee within 7 days.
You have a fascinating, vibrant, and active life! Don't let occasional joint pain or stiffness take you out of play. SISU No. 7 Joint Complex is the next generation alternative after glucosamine to increase mobility, flexibility, and range of motion in sensitive joints. In strong, healthy joints, ligaments and cartilage absorb impact and allow for smooth, pain-free motion. This breakthrough formulation brings together 7 bio-active nutrients that work together in just 7 days to relieve joint pain and stiffness so you can get back into the action - without the potential side effects and risks of over-the-counter and prescription anti-inflammatories and pain-killers.
Features:
Combination of 7 joint health ingredients, boswellia extract, collagen, Ester-C, turmeric, white willow, ginger, and cayenne
Standardized 5-Loxin Advanced boswellia extract lowers the enzyme that stimulates the production of inflammation-causing mediators in the body
Clinically proven to reduce joint pain and stiffness within 7 days
UC II un-denatured type II collagen interrupts the inflammation pathway at the source; it acts as an immune modulator and can hinder the immune system from breaking down cartilage
Clinically proven to be two to three times more effective in reducing pain, increasing flexibility, and improving morning stiffness than a combination of glucosamine and chondroitin
Vitamin C is a key constituent required for the formation of collagen
Ester-C is non-acidic and has superior digestibility, bioavailability, and retention than other forms of vitamin C
Enhanced with supporting nutrients: white willow and ginger extracts to help with pain relief, turmeric for its anti-inflammatory properties, and cayenne used as a synergistic nutrient to help prime the digestive system for a better absorption
Convenient daily dose of 1 fast-dissolving capsule
Contains no ingredients that are a source of gluten
Good Manufacturing Practices standards
NPN approved
Contains no dairy, wheat, or peanuts.
Each vegetarian capsule contains:
Medicinal ingredients: Boswellia (Boswellia serrata) gum oleoresin...100 mg, standardized to contain 20% 3-Acetyl 11-keto-beta boswellic acid (AKBA) 5-Loxin Advanced brand, Undenatured type II collagen...10 mg, UC II brand standardized cartilage, Vitamin C (calcium ascorbate)...100 mg, Ester-C brand Turmeric (Curcuma longa) rhizome...50 mg, 4:1 extract, QCE 200 mg (equivalent to 200 mg dried herb),
White willow (Salix alba) stem bark...35 mg, 5:1 extract, QCE 175 mg (equivalent to 175 mg dried herb), Ginger (Zingiber officinale) rhizome...35 mg, 4:1 extract, QCE 140 mg (equivalent to 140 mg dried herb), Cayenne (Capsicum annuum) fruit...22 mg
Non-medicinal ingredients: silicon dioxide, magnesium stearate (vegetable), maltodextrin. Capsule shell: hypromellose.

Adult dosage: Take 1 capsule 1 time per day or as directed by a health care practitioner.

Highlights

Shipping & Returns
Rated

4

out of

5
by
Piccolo
from
This works!
I am in my 2nd week of using this product and felt relief from pain within only 3 days! However, as I moved towards the end of the week and into the next, I started to experience problems with my breathing. There are warnings on the box for people with certain health issues. I do not understand what it is in this product that bothers asthma, but it does. However, it worked well in reducing my body pain...shoulders, hips, knees and feet.
Date published: 2020-08-13
Rated

5

out of

5
by
Tracy
from
Living pain free with sisu7
I have been taking Sisu7 for four years now and have been pain free because of it! Prior to taking it I had arthritis in my fingers my knee and my ankle I was taking glucosamine supplements to help somewhat but the pain in my ankle was so sharp I was limping for three months. It's was two weeks after starting and the pain disappeared. One capsule every day and no pain ,there have been a few occasions over the years where I ran out And within a week the pain came back in my fingers so badly I can hardly move them , upon resuming the supplement the pain would be gone in 2-3days!It is a painful reminder of what my life would be like without this supplement.To live a pain free life because of this is a daily blessing!
Date published: 2020-10-25
Rated

5

out of

5
by
A VERY GOOD product
from
Like oil on my knees
I purchased this as I have bad knees and intermittent pain in my ligaments in my legs. The first time I took it I could not believe how fast it worked for me, my knees felt like well oiled knees. I take this occasionally, not every day since it seems to bother my asthma a bit. Great product for me.
Date published: 2020-08-26
Rated

3

out of

5
by
G123
from
DO NOT TAKE IF YOU ARE ALLERGIC TO ASPIRIN
I so wanted to like this product but when I received it and reviewed the information on the box with a large, lighted magnifying glass, I discovered the white willow is contraindicated for people with aspirin allergies. I am asthmatic and can't take aspirin. I contacted Well and suggested they update their website to reflect this.
Date published: 2022-06-03
Rated

4

out of

5
by
Cor
from
So far so good
This is my third joint product I have tried as I have bad knees. I just ordered a second bottle as I finally feel this one is helping.
Date published: 2021-04-24
Rated

5

out of

5
by
D88
from
No more pain!
Within a few days of starting this supplement, my hip pain just disappeared. The pain had been appearing every night for months and has not reappeared two months into taking this supplement. I'm really delighted!
Date published: 2021-10-06