SISU
SISU B Calm with Rhodiola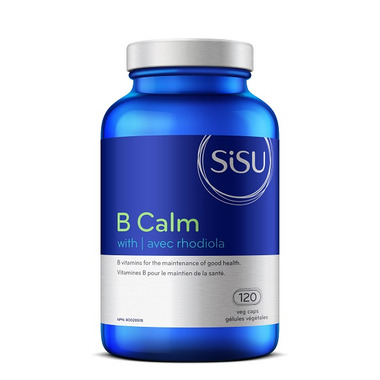 SISU
SISU B Calm with Rhodiola
Description
SISU B Calm with Rhodiola has ​B vitamins to support metabolism, with herbal support for periods of stress.
Features:
Complete B complex formula plus rhodiola to support overall health, particularly in people under physical or mental stress
B vitamins support liver detoxification, healthy cholesterol levels, adrenal function, and hormone balance
Supplementing with B vitamins combats deficiencies caused by various chronic diseases, a vegetarian diet, stress, and age
Rhodiola is an adaptogen, meaning it normalizes production of certain hormones within the nervous system to invigorate a sluggish system or calm an agitated one
Rhodiola is clinically proven to improve general well-being, decrease mental fatigue, and improve performance during periods of stress
High-potency rhodiola extract, grown in Siberia and standardized to contain 3% rosavins and 1% salidrosides
SISU Advantages:

Moderate potency, fast-dissolving vegetarian capsules
Active forms of vitamin B2 and B6
Contains niacinamide, a non-flushing vitamin B3
Suitable for vegans
Good Manufacturing Practices standards
Tested for guaranteed purity and potency
Tested for pesticides and herbicides
NPN approved
Ingredients:

Medicinal: (per capsule): Vitamin B1 (thiamine)...25 mg (thiamine hydrochloride); Vitamin B2 (riboflavin)...25 mg (riboflavin & riboflavin-5-phosphate (sodium salt)); Vitamin B6...50 mg (pyridoxine hydrochloride & pyridoxal-5-phosphate); Vitamin B3 (niacinamide)...20 mg; Vitamin B5 (pantothenic acid)...100 mg (calcium-d-pantothenate); Vitamin B9 (folate) (folic acid)...200 mcg; Biotin...75 mcg; Vitamin B12 (cyanocobalamin)...100 mcg; Roseroot (Rhodiola rosea) root extract...250 mg standardized to contain 1% salidrosides*
Non-medicinal: microcrystalline cellulose, magnesium stearate (vegetable), silicon dioxide.
Capsule Shell: hypromellose
Adult dosage:
Take 2 capsules daily or as directed by a health care practitioner.
Highlights

Shipping & Returns