SISU
SISU Calcium & Magnesium 1:1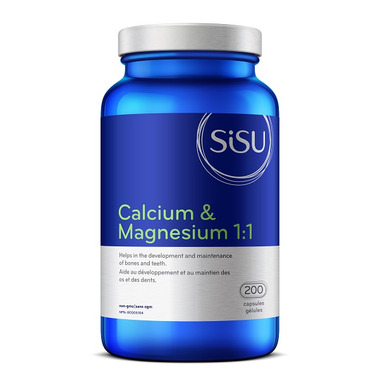 SISU
SISU Calcium & Magnesium 1:1
Description
SISU Calcium & Magnesium 1:1 helps in the development and maintenance of bones and teeth. Calcium intake, when combined with sufficient vitamin D, a healthy diet and regular exercise, may reduce the risk of developing osteoporosis.
Features:
Low-potency formula of calcium citrate, magnesium oxide, and vitamin D3
Suitable for people who are not at high risk of bone loss and who need a lower amount of those nutrients to supplement a healthy diet; also suitable for people who are taking calcium and magnesium in other supplements (multivitamins, minerals)
Calcium citrate is better absorbed in post-menopausal women
Magnesium improves vitamin D activity and decreases the risk of developing osteoporosis
The extra magnesium can be also beneficial for diabetics and for muscle relaxation, headache or migraine prevention and relief of constipation
Vitamin D is essential to calcium absorption and helps support bone density and reduce fractures
SISU Advantages:

Easy-to-swallow capsule
Shellfish free calcium citrate
Contains no ingredients that are a source of gluten
Good Manufacturing Practices standards
Tested for guaranteed purity and potency
NPN approved
Ingredients:

Medicinal: (per capsule) Calcium (Calcium citrate)...100 mg; Magnesium (Magnesium oxide)...100 mg; Vitamin D (Vitamin D3)...2.5 mcg equivalent to 100 IU of vitamin D (cholecalciferol) activity
Non-medicinal: magnesium stearate (vegetable).
Capsule shell: gelatin.
Adult dosage:
Take 2 capsules daily with meals or as directed by a health care practitioner. Take a few hours before or after taking other medications.
Highlights

Shipping & Returns