SISU
SISU Calcium & Magnesium 2:1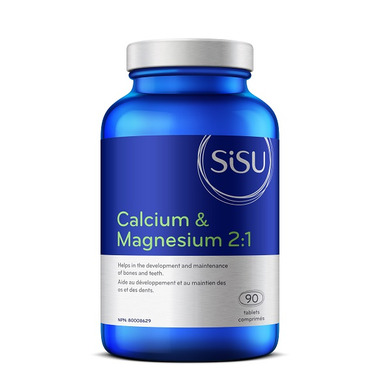 SISU
SISU Calcium & Magnesium 2:1
Description
SISU Calcium & Magnesium 2:1 helps in the development and maintenance of bones and teeth. Calcium intake, when combined with sufficient vitamin D, a healthy diet and regular exercise, may reduce the risk of developing osteoporosis.
Features:
High-potency formula of calcium citrate, magnesium oxide and vitamin D2
Calcium citrate is better absorbed in post-menopausal women
Magnesium improves vitamin D activity and decreases the risk of developing osteoporosis
Vitamin D is essential to calcium absorption and helps support bone density and reduce fractures
Vitamin D2, the vegetarian form of this nutrient, has been proven equally as well-absorbed as the animal-sourced vitamin D3
Three tablets per day provide 900 mg of elemental calcium and 450 mg of elemental magnesium in a 2:1 ratio
Take in divided doses throughout the day for better absorption
SISU Advantages:

High-potency tablets for those wanting to supply their needs with fewer pills
Tapered tablet with a smooth, water-based coating
Formulated to dissolve when stirred in hot water for those with slow digestion or who prefer not to swallow pills
Shellfish free calcium citrate
Suitable for vegans
Contains no ingredients that are a source of gluten
Good Manufacturing Practices standards
Tested for guaranteed purity and potency
NPN approved
Ingredients:

Medicinal: (per tablet ) Calcium (calcium citrate)...300 mg; Magnesium (magnesium oxide)...150 mg; Vitamin D2 (ergocalciferol)...5 mcg (200 IU)
Non-medicinal: microcrystalline cellulose, croscarmellose sodium, magnesium stearate (vegetable).
Coating: glycerin (vegetable), hypromellose, titanium dioxide.
Adult dosage:
Take 1-3 capsules daily with meals or as directed by a health care practitioner. Take a few hours before or after taking other medications.
Highlights

Shipping & Returns