SISU
SISU Calcium & Magnesium Citrates Liquid
Natural Creamy Vanilla 450 mL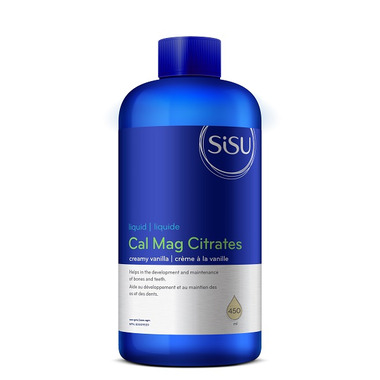 SISU
SISU Calcium & Magnesium Citrates Liquid
Natural Creamy Vanilla
450 mL
---
Description
SISU Calcium & Magnesium Citrates Liquid helps in the development and maintenance of bones and teeth. Calcium intake, when combined with sufficient vitamin D, a healthy diet, and regular exercise, may reduce the risk of developing osteoporosis.
Features:
High-potency formula of calcium citrate, magnesium citrate and vitamin D3
Calcium in the citrate form is better absorbed in post-menopausal women
Magnesium improves vitamin D activity and decreases the risk of osteoporosis
Vitamin D is essential to calcium absorption and helps support bone density and reduce fractures
Two tablespoons provide a full 1,000 IU of vitamin D
Can be taken before bed to help promote relaxation and sleep
SISU Advantages:

Convenient adult and children's dosing on label
All natural flavours; no added sugar or artificial sweeteners
Great-tasting liquid that can be taken by the spoonful or added to a blender drink
Shellfish-free calcium citrate
Contains no ingredients that are a source of gluten
Good Manufacturing Practices standards
Tested for guaranteed purity and potency
NPN approved
Ingredients:

Medicinal: (per 15 mL) Calcium (calcium citrate)...500 mg; Magnesium (magnesium citrate)...200 mg; Vitamin D (vitamin D3)...12.5 mcg; equivalent to 500 IU of vitamin D (cholecalciferol) activity
Non-medicinal: purified water, glycerin (vegetable), xanthan gum, potassium sorbate, sodium propionate, vitamin E (d-alpha tocopherol), rosemary extract. Plus natural vanilla flavour.
Capsule shell:

Dosage:
(Adult) 1 – 2 tablespoons daily or as directed by a health care practitioner. (Children) (4 – 8 years) one half (1/2) tablespoon daily; (9 – 18 years) 1 tablespoon daily; or as directed by a health care practitioner.
Highlights

Shipping & Returns