SISU Dophilus Plus Chewable
Cherry Flavour
120 Tablets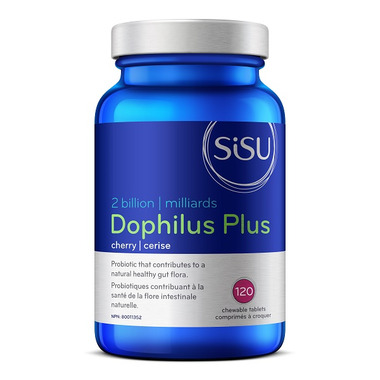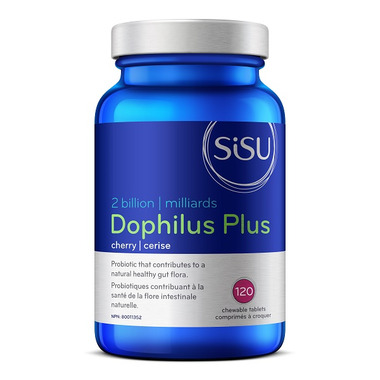 SISU Dophilus Plus Chewable
Cherry Flavour
120 Tablets
SISU Dophilus Plus Chewable ​is a probiotic that contributes to a natural healthy gut flora.
Features:
Helps improve digestion and absorption of nutrients from food
A factor in healthy immune system function, particularly colon health
Bifidobacteria (B. infantis) protects against pathogens and promotes intestinal, particularly colon health
Lactobacilli (L. acidophilus and L. rhamnosus) work with bifidobacteria to produce essential vitamins, and improve lactose intolerance and overall digestion
The two families of bacteria have been proven in human studies to work together to treat diarrhea
SISU Advantages:

Specially chosen strains that are found naturally in humans
Delicious cherry taste - all-natural flavours and sweeteners
Guaranteed potency at expiration date
Contains no ingredients that are a source of gluten
Good Manufacturing Practices
Tested for guaranteed purity and potency
NPN approved
Ingredients:

Medicinal: (per tablet) Bifidobacterium infantis (M-63)...1 Billion cfu*; Lactobacillus acidophilus (HA-122)...500 Million cfu*; Lactobacillus rhamnosus (HA-111)...500 Million cfu*; *colony forming unit
Non-Medicinal: sorbitol, fructose, microcrystalline cellulose, calcium silicate, citric acid, stearic acid, magnesium stearate (vegetable), natural cherry flavour, cherry juice concentrate, ascorbic acid, potato starch.
Dosage:
(Adult) Chew 1 tablet 1-3 times daily or as directed by a health care practitioner.
Please be advised that Well.ca follows manufacturer guidelines for storing & shipping probiotics.