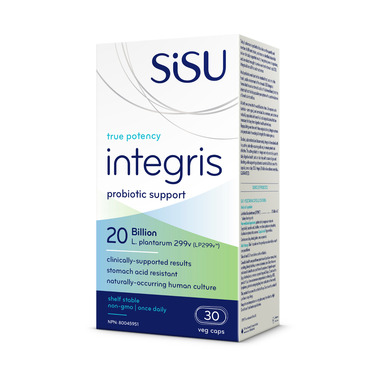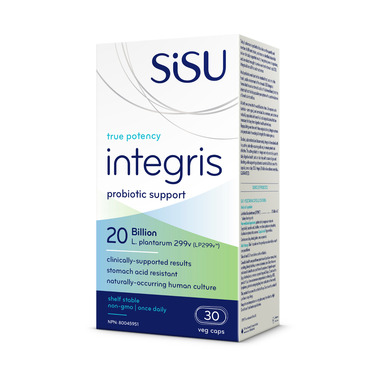 On a daily basis, the active probiotic in Integris not only naturally supports digestive health, but can also help with occasional gas and bloating, while supporting abdominal comfort. All this in one little capsule, once a day - SISU Integris 20 billion live bacteria every day… GUARANTEED.
Patented probiotic strain Lactobacillus plantarum (LP299vTM) with unique therapeutic properties not found in any other strain
20 billion live CFUs (colony-forming units) per capsule, a dosage that is
clinically proven to be effective and safe, including for children
One of the most-researched probiotics with more than 75 clinical studies over
more than 25 years
Withstands stomach acid, multiplies in the intestines, stimulates protective
intestinal mucous, and inhibits pathogens
The only strain of bacteria proven to stimulate the growth of other probiotics,
thus increasing biodiversity in the intestines
Reduces or eliminates nausea and diarrhea side effects of antibiotics
Directions:
Adult dosage: Take 1 capsule one time per day or as directed by a health care practitioner. Take at least 2-3 hours before or after antibiotics.
Medical Ingredients:
Lactobacillusplantarum(LP299vTM) ...........20 billion cfu**colony forming units
Non Medical Ingredients:
potato starch (non-GMO),magnesium stearate (vegetable), ascorbic acid, lecithin,monobasic potassium phosphate, dipotassium phosphate,sucrose.Cap suleshell: hypromellose.
Please be advised that Well.ca follows manufacturer guidelines for storing & shipping probiotics.