SISU
SISU Kids' Cold & Flu Rescue Wildberry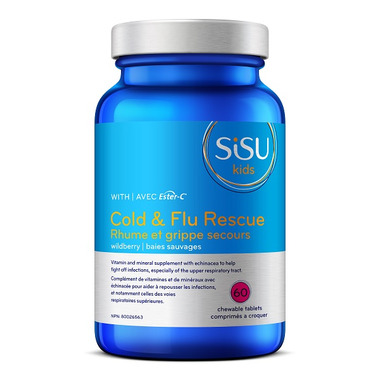 SISU
SISU Kids' Cold & Flu Rescue Wildberry
Description
SISU Kids' Cold & Flu Rescue is a vitamin and mineral supplement with echinacea to help fight off infections, especially of the upper respiratory tract.
Dosage: Children 4-8 years chew 3-4 tablets per day with food or as directed by a health care practitioner; Children 9-13 years chew 6 tablets per day with food or as directed by a health care practitioner.
SISU Advantages:

Easy-to-take chewable tablets that can also be taken as a lozenge
Contains no ingredients that are a source of gluten
Naturally-flavoured with raspberry, black raspberry, and cherry flavours
Naturally-sweetened with isomalt from sugar beets and stevia
Good Manufacturing Practices standard
Suitable for vegan diets
Tested for guaranteed purity and potency
Tested for pesticides and herbicides
NPN approved
Highlights

Features
Unique combination of immune-supporting ingredients: echinacea, zinc, vitamin C, vitamin A, and beta carotene
Ester-C is a unique, non-acidic and easier-to-digest form of vitamin C, clinically proven to last up to 24 hours in the white blood cells of the immune system
High-potency echinacea extract is a powerful immune stimulant and is most effective when taken at the onset of infection
Zinc gluconate reduces the severity and duration of cold and flu symptoms such as sore throat, coughing, and nasal symptoms
Does not have any of the sedative or other side effects of over-the-counter drugs
Ingredients
Medicinal: (per tablet) Vitamin C 100 mg - from Ester-C brand calcium ascorbate and sodium ascorbate; Echinacea (Echinacea purpurea, herb top) 4:1 extract...55 mg; QCE 220 mg (equivalent to 220 mg dried herb); Zinc (zinc gluconate) 3 mg; Vitamin A (vitamin A palmitate) 150 mcg RAE equivalent to 495 IU vitamin A activity; Beta carotene 100 mcg - equivalent to 167 IU beta carotene
Non-medicinal: microcrystalline cellulose, isomalt, citric acid, Stevia rebaudiana leaf, natural flavours: raspberry, black raspberry, cherry juice concentrate, D-fructose, silicon dioxide, stearic acid (vegetable), magnesium stearate (vegetable).
Shipping & Returns