SISU
SISU Kids' Mini Vits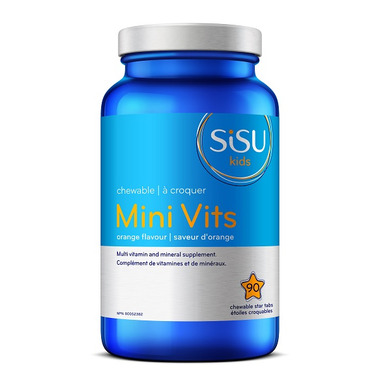 SISU
SISU Kids' Mini Vits
Description
SISU Kids' Mini Vits provide multi vitamin and mineral supplement for the maintenance of good health.
SISU Advantages:
Chewable, star-shaped, happy-face tablets
All natural flavours and sweeteners
Suitable for vegans
Good Manufacturing Practices standards
Tested for guaranteed purity and potency
NPN approved
Highlights

Features
Complete multivitamin plus a calcium supplement all in one
Full complex of B vitamins to support mood, brain function, nervous system, and cardiovascular health
Ester-C?, a type of antioxidant vitamin C, is less acidic and has been proven to last up to 24 hours in the white blood cells
Formulated with a higher dose of calcium to support bone mass development and healthy teeth
Vitamins A, C and D as well as zinc support immune health
Adequate intake of essential vitamins and minerals supports mental health (mood and learning) as well as physical health (performance and recovery)
Available in a natural orange flavour
Ingredients
Medicinal Ingredients
:
Vitamin A (vitamin A palmitate) equivalent to 1,000 IU vitamin A activity ...300 mcg RAE
Beta carotene equivalent to 250 IU beta carotene ... 150 mcg
Thiamine (thiamine mononitrate) ... 1 mg
Riboflavin ... 1.5 mg
Niacin (niacinamide) ... 5 mg
D-pantothenic acid (calcium d-pantothenate) ... 10 mg
Vitamin B6 (pyridoxine hydrochloride) ... 2 mg
Folate (folic acid) ... 50 mcg
Vitamin B12 (cyanocobalamin) ... 5 mcg
Biotin ... 5 mcg
Vitamin C from Ester-C? brand calcium ascorbate and sodium ascorbate ... 125 mg
Vitamin D (vitamin D2) equivalent to 200 IU of vitamin D (ergocalciferol) activity ... 5 mcg
Vitamin E (d-alpha-tocopheryl acid succinate) equivalent to 50 IU of vitamin E activity ... 33.5 mg ATE
Calcium (calcium carbonate and citrate) ... 200 mg
Magnesium (magnesium oxide) ... 35 mg
Zinc (zinc citrate) ... 2.5 mg
Iron (ferrous fumarate) ... 2 mg
Copper (cupric citrate) ... 0.5 mg
Iodine (potassium iodide) ... 0.05 mg
Choline (choline bitartrate) ... 2 mg
Inositol (myo-inositol) ... 5 mg
RAE=retinol activity equilivant
ATE=alpha tocopherol equilivant
Non-medicinal Ingredients:
Stevia rebaudiana leaf, D-fructose, dextrose, citric acid, natural flavours (orange, pineapple, coconut, citrus punch), guar gum, silicon dioxide, stearic acid (vegetable), magnesium stearate (vegetable), microcrystalline cellulose, dicalcium phosphate, turmeric, beetroot powder.
Shipping & Returns