SISU
SISU Liquid Melatonin 10mg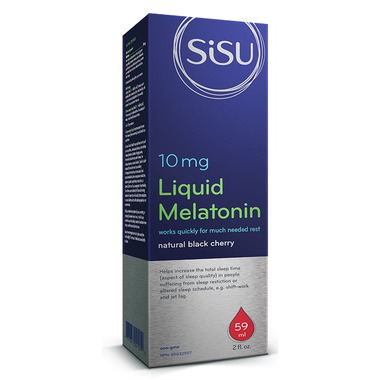 SISU
SISU Liquid Melatonin 10mg
59 mL
SISU Liquid Melatonin 10mg
is rated out of
5
by
5
.
---
Description
Helps increase the total sleep time (aspect of sleep quality) in people suffering from sleep restriction or altered sleep schedule, e.g. shift-work and jet leg.
Features:
High-potency melatonin in a liquid form for accelerated absorption and rapid effects
Helps people with low melatonin levels fall asleep more easily, sleep longer, and wake up less frequently during the night
Can be started a few days before you expect your normal schedule to be altered (shift change, travel)
Reduces the fatigue caused by jet lag
Research indicates melatonin administered before surgery may help reduce postoperative pain and anxiety
Clinical research has found that melatonin can help reduce benzodiazepine withdrawal symptoms or improve quality of sleep when added to benzodiazepine therapy
Other possible uses of melatonin include the reduction of nocturnal hypertension and symptoms of irritable bowel and reflux (GERD)
Natural black cherry flavour and naturally sweetened
Liquid form for flexible dosing (people can personalize the amount they take at one time)
Ideal for people taking high doses of melatonin as part of adjunctive therapies
Pure, safe, synthetic source (not sourced from animal brain tissue)
Suitable for vegans
Contains no ingredients that are a source of gluten

Medicinal ingredient:
Melatonin...10 mg
Non-medicinal ingredients:
citric acid, glycerine (vegetable), potassium sorbate, sodium benzoate, purified water, black cherry flavour, sodium gluconate, black carrot juice, black currant juice, invert sugar. Contains no wheat, peanuts, dairy, or soy.
Adult dosage: Take 0.5 – 1 millilitre (mL) 1 time per day, at or before bedtime. 1 mL = 10 mg melatonin.
Highlights

Shipping & Returns
Rated

3

out of

5
by
Anonymous
from
Not my favourite.
This product does work, but the sugary taste is so intense and unpleasant. When I first opened my bottle it was granulated with crystals all along the dropper. I don't recommend. I opted for Sisu's sublingual melatonin instead !
Date published: 2020-03-12
Rated

4

out of

5
by
Jenny8675309
from
Works quickly
Occasionally one of my kids wakes me in the middle of the night and I have trouble falling back asleep. I'm not sure if it's psychosomatic or not but now I take a dose of this when I feel tossy and turny and I quickly go back to sleep. Taste is not great but it's such a small amount you can quickly wash it down with a sip of water- it doesn't linger.
Date published: 2020-01-10
Rated

4

out of

5
by
mii
from
Works well! Tastes less well
Certainly does the trick but the taste is unpleasant like cough syrup. I prefer the melatonin gummies but decided to try the liquid as they didn't have the gummies in stock. I find that sometimes diluting the liquid with a mouthful of water helps it go down easier.
Date published: 2022-08-10
Rated

5

out of

5
by
Ashley
from
This is the third bottle I've bought over the years. It knocks me right out! I love it. My naturopath also said melatonin is good for fertility but don't really know if that's true. The only thing is that I do wonder how much sugar is in it, but whatever.
Date published: 2019-12-31
Rated

5

out of

5
by
Auri_
from
Best melatonin I've tried
I've tried several different types and forms of melatonin but this one keeps me asleep the best. It's a high dose but I only use a few drops and it works wonders!
Date published: 2021-11-24