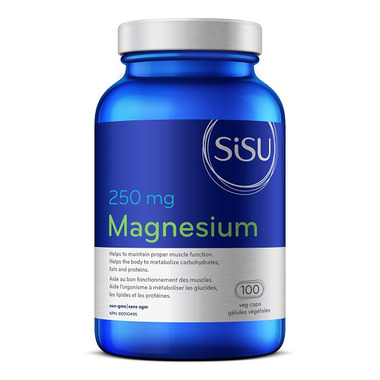 Description
SISU Magnesium helps to maintain proper muscle function. Helps the body to metabolize carbohydrates, fats and proteins.
Features:
250 mg of elemental magnesium from magnesium malate and the natural oxide form
Magnesium malate is made by combining a natural magnesium complex with malic acid
Provides the approximate equivalent of 450 mg malic acid per capsule
Malic acid is made in the body and is also found naturally in many fruits including apples and sour cherries. It is a safe food ingredient used to flavour sour candies and some wines
Take with food and spread the daily dosage throughout the day to reduce the likelihood of gastric side effects because too much magnesium can induce diarrhea
SISU Advantages:
Easy-to-swallow, fast-dissolving vegetarian capsulez
Suitable for vegans
Contains no ingredients that are a source of gluten
Good Manufacturing Practices standards
Tested for guaranteed purity and potency
NPN approved
Ingredients:

Medicinal: (per capsule) Magnesium ...250 mg (magnesium malate, magnesium oxide)
Non-medicinal: magnesium stearate (vegetable), silicon dioxide.
Capsule: hypromellose
Dosage:
(Adult) Take 1 capsule daily or as directed by a health care practitioner.
Highlights

Shipping & Returns