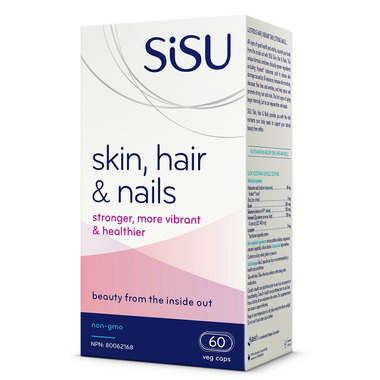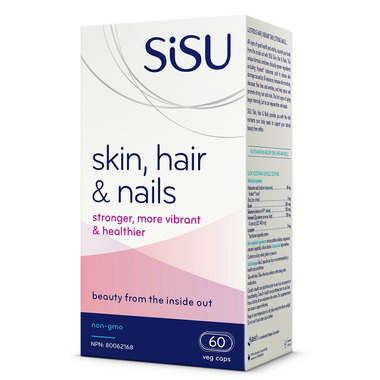 SISU Skin, Hair & Nails captures the strength of natural ingredients
including pure hyaluronic acid that nourish the body and inspire beauty
from within.
Features:
Hyabest is clinically validated to prevent skin damage caused by UV exposure, improve wrinkles and increase skin hydration, elasticity, and smoothness
Highly-purified, vegetarian source with proven physiological activity
Lycopene is a carotenoid found in human skin and shown in clinical studies to prevent skin and DNA damage from UV exposure and improve skin "roughness"
Zinc controls production of oil in the skin and helps prevent acne
Silica and biotin are used in beauty programs to strengthen the hair and fortify nails
Dosage:
Take 2 capsules per day or as recommended by a health care practitioner.
Ingredients:
Hyaluronic acid, zinc, biotin, selenium, horsetail extract, lycopene.
Non-medicinal:
microcrystalline cellulose, magnesium stearate, silicone dioxide, dextrin.



Cassandre:
a few months ago
My skin cleared up after three months of using this product. Several people have even told me that my skin is glowing. My nails are no longer brittle and are much stronger. The only reason I'm not giving this product a full 5/5 rating is because I have not seen much difference with my hair...yet.
Seana:
about a year ago
So far I really like this product. I've gone through one bottle and what I've noticed is; softer skin, softer and fuller hair, and my nails are very hard and grow really fast! I file them every other day. I was hoping my hair would noticeably grow in length but I haven't noticed much change there. But I did buy another bottle because I'm really enjoying the results I do see, and since I've started taking the supplement I've had some compliments on my nails, skin, and hair so it's doing something!
Page
1