SISU
SISU Supreme Multi Expecting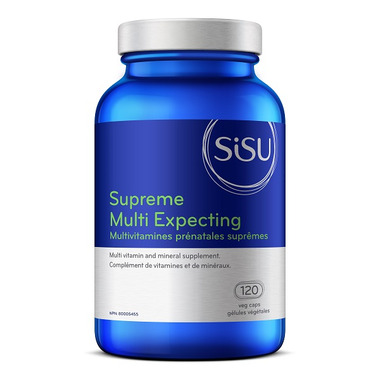 SISU
SISU Supreme Multi Expecting
Description
SISU Supreme Multi Expecting is a multivitamin and mineral supplement. A factor in the maintenance of good health.

Features:
Full complex of B vitamins at a higher dose to help mother-to-be with stress and nausea, and to support baby's nervous system and brain development
Maximum amount of folic acid for prevention of certain neurological birth defects
Trace minerals in their chelate or citrate form for more rapid absorption
Formulated with a higher dose of iron to meet the increased demands and help prevent anaemia in the mother
Lower dose of vitamin A, enough to support mother's immune health without endangering the baby
Contains no calcium and magnesium as these minerals should be taken separately at a higher dose than can be fit into a multivitamin formula
Suitable for those with higher nutrient requirements and for more active women
SISU Advantages:
Convenient dosage of two easy-to-swallow, fast-absorption capsules per day
Vegetarian capsule with vitamin D3 from lanolin being the only non-vegan ingredient in the product
Good Manufacturing Practices standards
Tested for guaranteed potency and purity
NPN approved
Ingredients:

Medicinal: (per capsule) Beta carotene...90 mcg RAE
equivalent to 180 mcg (600 IU) beta carotene
Vitamin A...180 mcg RAE
(vitamin A palmitate) equivalent to 600 IU vitamin A activity
Vitamin C (calcium ascorbate)...125 mg
from Ester-C® brand calcium ascorbate
Vitamin D (cholecalciferol)...5 mcg
equivalent to 200 IU vitamin D3 activity
Vitamin E...33.5 mg ATE
(d-alpha-tocopheryl acid succinate) equivalent to 50 IU vitamin E activity
Thiamine (thiamine hydrochloride)...25 mg
Riboflavin...25 mg
Niacinamide...15 mg
Pantothenic Acid...25 mg
(calcium d-pantothenate)
Vitamin B6...37.5 mg
(pyridoxine hydrochloride)
Folate (folic acid)...500 mcg
Vitamin B12 (cyanocobalamin)...200 mcg
Biotin...150 mcg
Copper (cupric citrate)...0.5 mg
Manganese (manganese citrate)...1 mg
Zinc (zinc citrate)...7.5 mg
Potassium (potassium citrate)...5 mg
Iodine (potassium iodide)...75 mcg
Iron (iron citrate)...15 mg
Molybdenum...25 mcg
(molybdenum HVP* chelate)
Chromium...50 mcg
(chromium HVP* chelate)
Selenium (selenium HVP* chelate)...25 mcg
*hydrolyzed vegetable protein
Non-medicinal: microcrystalline cellulose, silicon dioxide, magnesium stearate (vegetable).
Capsule shell: hypromellose
Adult dosage:
(pregnant women) Take 1 capsule 2 times daily with food or as directed by a health care practitioner.
Highlights

Shipping & Returns