SISU U-Cubes Multivitamin Gummies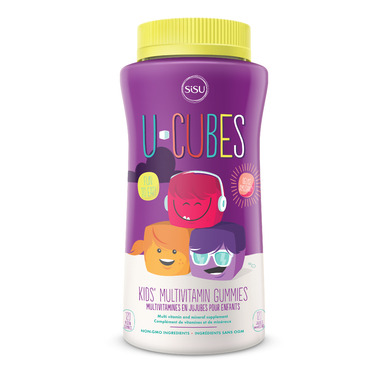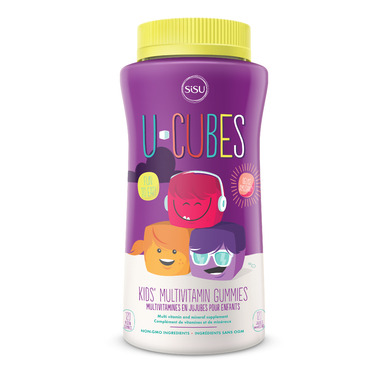 SISU U-Cubes Multivitamin Gummies
Despite our best attempts, children's diets can experience nutritional gaps. Fruits, veggies, proteins, good fats are all elements we strive to provide but can be a challenge to deliver. Supplementing a child's diet with a high-quality, pure and safe multivitamin will help you provide your kids with the essential building blocks of a fully complemented diet.
SISU U-Cubes Gummies provide the important vitamins and minerals children need daily, in a formula specially designed for kids. Other gummies are often made with animal gelatin, high-fructose corn syrup, and artificial colours and preservatives – but not SISU U-Cubes. We stand behind giving your kids the best: pectin-based, naturally-flavoured multi vitamin and mineral to help bridge nutritional gaps and provide extra nutrients for growing bodies and minds.
Benefits:
Non-GMO
All-natural flavours, sweeteners, and colours
Free of beef or pork gelatin
No high-fructose corn syrup
Kid-friendly, lightweight, plant-based bottle
Tested for guaranteed purity and potency
Ingredients:
Vitamin A, D-pantothenic acid, vitamin B6, Vitamin B12, Folic Acid, Vitamin C, Vitamin D3, Vitamin E, Iodine, Zinc, Fish Oil.
Non-medicinal ingredients:
dicalcium phosphate,tricalcium phosphate, magnesium citrate,maltodextrin, inositol, silicon dioxide, D-mannitol,sugarcane juice, tapioca syrup, purified water,pectin, citric acid, maqui berry, black carrot juice, turmeric, natural grape flavour, natural cherry flavour, natural orange flavour, fish gelatin.
Directions:
Children (4-8 years): Chew 2 gummies 1 time per day.
Children (9-13 years): Chew 4 gummies 1 time per day. Take with food. Take a few hours before or after taking other medications.