Six Star Pro Nutrition 100% Whey Isolate
Six Star® Whey Isolate features a protein source with one of the highest biological values, making it easy to digest, mix, and absorb. It's undergone microfiltration to remove the things you don't want, like fat and lactose, and retain higher concentrations of the things you want, like amino acids.
Features:

60g of ultra-pure protein (per 2 scoops)
Only 2g of sugar and just 1g of fat
A delicious taste you'll love
Recommended Use or Purpose: Used to help meet an individual's protein requirements. Also helps to support recovery after training. Excellent source of protein to help build and repair body tissues. Protein is a source of essential amino acids involved in protein synthesis.

Recommended Dose (Adults): Mix 1 to 2 scoops (1 to 2 servings) with 120 to 240 mL of cold water or skim milk daily. Do not exceed 2 servings in a 24-hour period. Consume 10 glasses of water daily for general good health. Read the entire label before use and follow directions as provided.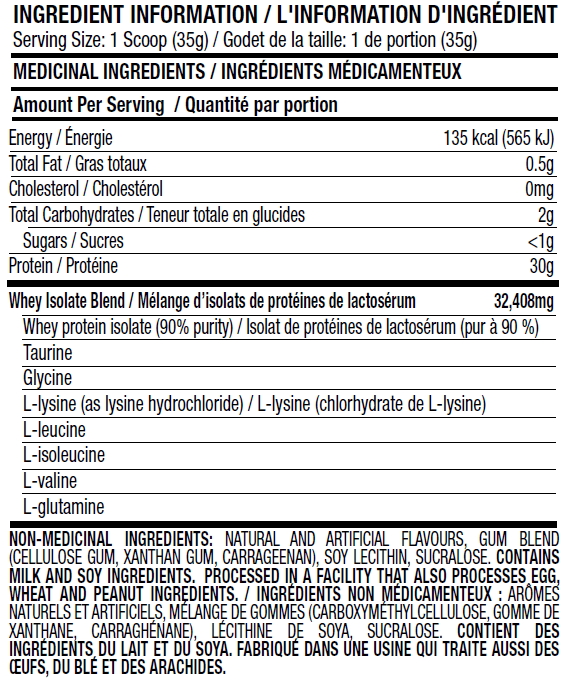 RISK INFORMATION: Not intended for use by persons under 18. Do not use if pregnant or nursing. Discontinue use and consult a health care practitioner if you experience unusual symptoms. Consult a health care practitioner before use if you have been treated for, diagnosed with or have a family history of any medical condition, including liver or kidney disease, or if you are using any prescription or over-the-counter drug(s), including blood thinners. Consult a health care practitioner before starting any diet or exercise program. Do not exceed recommended serving. Improper use of this product will not improve results and is not advised. Use only as directed. Consult a health care practitioner prior to use if you are following a low protein diet. May cause gastrointestinal disturbances. KEEP OUT OF REACH OF CHILDREN.