Skintimate
Skintimate Skin Therapy Moisturizing Shave Gel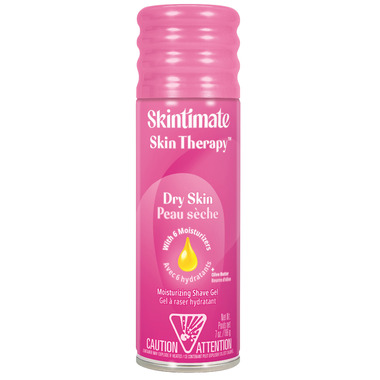 Skintimate
Skintimate Skin Therapy Moisturizing Shave Gel
Dry Skin
198 g
Skintimate Skin Therapy Moisturizing Shave Gel
is rated out of
5
by
296
.
---
Description
Condition While You Shave. Give skin the extra TLC it needs with Skintimate Skin Therapy. A unique moisture rich lotionized gel combined with a skin softening complex of restorative moisturizers, vitamins and anti-oxidants which give you a more comfortable shave and noticeably softer skin. Skintimate Skin Therapy gel foams into a rich creamy lather allowing the razor to glide over skin for a closer, more even shave. The rich lather helps to prevent cuts, while locking in skin's moisture.
Shipping & Returns
Rated

5

out of

5
by
mamawbrock66
from
Nothing better!!!
The Skintimate Dry Skin shaving gel is just simply awesome. The light scent is not overpowering but very simple and light. The gel foams up to provide you with a silky smooth shave. Softens the hair and the skin to provide a close and smooth shave. The skin is moisturized and the gel is not drying like many of the competitive brands. No brand stands up next to this brand. I regularly buy Skintimate and plan on continuing. I have super dry skin and this product seems to help moisturize after the shave and not dry.
Date published: 2015-03-04
Rated

5

out of

5
by
Tiny
from
amazing smooth
I love SKINTIMATE SKIN THERAPY DRY SKIN Gel. I have very dry skin and I seem to cut myself so easily. I have been using this for, since forever and I will go without than use a different kind. I don't cut myself anymore, and my legs feel so smooth. i love that the can doesn't rust. This is a must for everyone.
Date published: 2015-03-04
Rated

5

out of

5
by
Jillian
from
Would not use anything else
My legs are always so dry and well.... grosse. Especially in the winter! I recently developed a skin allergy and could not use any products on my skin that would not irritate it! Then I tried the Skin Therapy Skintimate shave gel! I had no reactions! It was sensitive enough for me skin and left me silky smooth! Thank you skintimate you save me and my legs!
Date published: 2015-03-03
Rated

5

out of

5
by
pferraro58
from
Amazing job
I love the skin therapy dry skin shave gel! My legs get so dry in the winter that I am always inching them till they bleed, and then I found Skintimate's and it works so well, my legs are no longer dried out and now smooth and soft ad the smell is a big plus!
Date published: 2015-03-03
Rated

5

out of

5
by
Teee
from
Skintimate® Skin Therapy Lotionized Dry Skin
dry skin moisturizing Shave Gel is amazing! I have severely dry skin and shaving in the winter was actually painful. Since I started using Skintimate® Skin Therapy Lotionized Dry Skin Moisturizing Shave Gel I have had no problems shaving, and I have noticed my dry skin has not been as severe. I recommend this for anyone with sensitive skin.
Date published: 2015-03-03
Rated

5

out of

5
by
megs
from
Five Star Product no doubt.
I have been using Skintimate products since I was a teenager. It is one of the few that I ca use without having any problems. I have tried other brands but have always found myself back to Skintimate. It works great, smells great, leaves your skin clean and fresh and with an added benefit that it does not cost a lot. I will and will always be a fan of #Skintimate. Thank you for making products with a wide range for many types of skin types. It is so good my husband uses it.
Date published: 2015-03-03
Rated

5

out of

5
by
Snow Kitten
from
Before I found Skintimate's Skin Therapy Dry Skin Shave Gel, every time I shaved, my legs were left feeling dry and itchy. The Skin Therapy Dry Skin Shave Gel always leaves my legs feeling soft, moisturized, and super smooth. I have found my forever shaving cream and am very happy to feel confident walking around in shorts after a shave!
Date published: 2015-03-03
Rated

5

out of

5
by
Jenicorn817
from
Great for my sensitive skin
[This review was collected as part of a promotion.] I've been using Skintimiate shaving cream since I started shaving way back in the day. The products have only gotten better with more options for whatever skin type, and scent you prefer. I have dry, sensitive skin and this helps my legs not get the dry cracked feeling after exfoliating and shaving. I am left with smooth, razor burn-free legs. I consider myself to be at the dramatic end of how dry my skin is and this works great and smells nice too. The lather makes shaving a breeze and paired with the correct razor, you can use this to shave anywhere you need.
Date published: 2022-03-05