Skip Hop Camping Cubs Activity Gym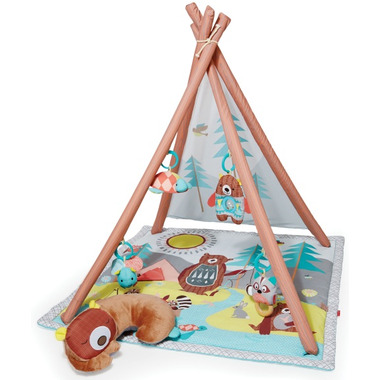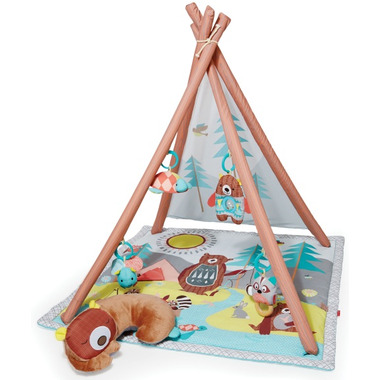 Skip Hop Camping Cubs Activity Gym
A cozy, nature-inspired play space for your curious little cub! With a wood grain-patterned structure, this baby gym has a whimsical outdoor feel. The printed mesh backdrop sets the ultimate campground scene, while the plush, sleeping bear tummy time pillow encourages developmental milestones. A light-up firefly, musical raccoon and other nature friends help to develop baby's sensory skills.

Features:
Ages 0+
Four ways to play: Overhead play, tummy time, seated play, playmat
17+ developmental activities include: light-up firefly, turtle mirror, bear rattle and musical raccoon with wooden teether that plays "Twinkle, Twinkle Little Star"
Scenic mesh backdrop
Unique, soft supports with woodgrain pattern and rope ties
Playmat features fun textures and peek-a-boo felt flap
Includes plush, sleeping bear tummy time pillow
BPA-free, PVC-free, Phthalate-free
Size (inches): 36l x 36w x 38h; (cm): 91l x 91w x 97h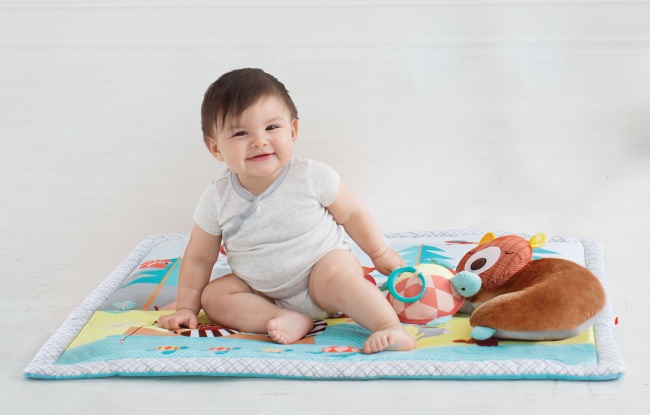 Emilia:
a few months ago
I'll have to admit I originally bought this purely based on how adorable I thought it was! But it turns out that my little one really loves it too. The mat is lightly padded which makes it great for play on a hardwood floor, Etc. Your child is likely to be fascinated with every aspect of the gym, from the toys that make noise and light up, to the mesh screen, to the crinkly part of the mat. Toys can be moved around on the poles or mat. I found we used baby links to extend toys closer to her face. When a two-year-old came to visit our house, she was similarly very interested in the gym. Although the price tag is not insignificant, we use this every day, and so it has been a worthwhile investment.
Page
1