Sleep-Eze
Sleep-Eze Extra Strength
Nightime Sleep Aid 20 Capsules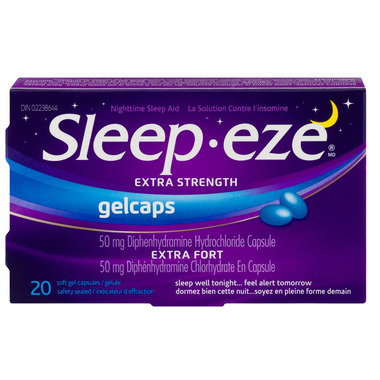 Nightime Sleep Aid
20 Capsules
Sleep-Eze Extra Strength
is rated out of
5
by
14
.
---
Description
Sleep-eze® Extra Strength Gelcaps Nighttime Sleep Aid.
Caution:
For occasional sleeplessness only. Not recommended for children under 12 years of age. This package contains sufficient medication to seriously harm a child. Keep out of reach of children. Security feature: Safety sealed in individual pouches. Do not use if pouch is not safety sealed.
Should you require consultation with a pharmacist, you may contact our Well.ca Pharmacist. Please read the label, warnings and inserts provided by the manufacturer and consult your healthcare professional when purchasing medications or natural health products to be sure the product is right for you.
Features
50 mg Diphenhydramine Hydrochloride Capsule
Safety Sealed
Sleep Well Tonight... Fell Alert Tomorrow
Ingredients
FD&C Blue No.1, Gelatin, Glycerin, Polyethylene Glycol, Pharmaceutical Ink, Purified Water, Sorbitol.
Shipping & Returns
Unfortunately, due to the nature of this item, we cannot accept any returns.
We are only able to ship this item to Canadian customers.
This item cannot be shipped to Quebec due to provincial pharmacy regulations.
Click here for more information
Rated

5

out of

5
by
Shawna
from
My husband and I both suffer from insomnia he more than me. I had used this product in the past and knew how it worked. WONDERFUL!!!!! I finally got my husband to use it and he had one of the best sleeps. He felt rested in the morning and no side effects. He was happy with the results that he and uses it whenever he feels restless or stressed and doesn't think he will sleep well. For me I love this product it helps slow my mind down and to help me relax so I can get to sleep. Again no side effects upon waking. This is a big 5 stars for us.
Date published: 2013-05-26
Rated

5

out of

5
by
MsTeacher
from
God send for sleep
Things have been tough at work and this past week I KNEW my anxiety was going to keep me up. I took 1 an hour before bed and had no problem falling asleep. No grogginess the next day either. Some eye crusties (don't normally get this) but small price to pay after actually sleeping the night through! Can't speak to long term effects or damage to liver. This is clearly for temporary insomnia.
Date published: 2020-09-19
Rated

2

out of

5
by
George
from
For me it did not work i took 1 an hour before going to bed and it was gust like inever toolk any i never slept all night in the morniing i put then in the garbage.a lousy product. George
Date published: 2012-03-21
Rated

2

out of

5
by
Debby
from
helps you sleep but hard to wake up and tend to have a headache and groggy in the morning... the product "Sleepfast" works much better to helps sleep and wake up refreshed.
Date published: 2011-03-20
Rated

4

out of

5
by
Kaitlyn
from
I have been using these for years and have found them to be very helpful. I will take a pill on the occasional basis when I really need a good night's sleep.
Date published: 2014-03-28
Rated

5

out of

5
by
Shawna
from
These work like a charm. I often suffer from insomnia and these just seem to push me over that edge so I relax and get some sleep.
Date published: 2014-01-10
Rated

5

out of

5
by
Lulu92
from
Works fast!
I Started buying these a couple months ago I suffer with insomnia and stress daily. I take one A night and wake up feeling great
Date published: 2020-11-03
Rated

3

out of

5
by
Name
from
Works in about 2 hours. Will make you feel artificially drowsy but not sleepy if that makes any sense. Yes, no after effects.
Date published: 2016-04-18