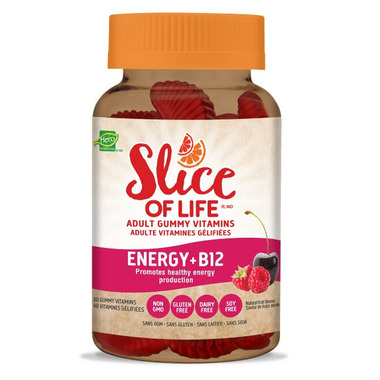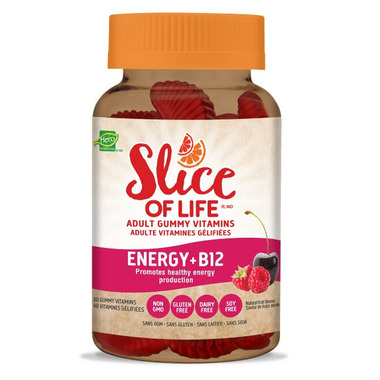 Were you even aware that taking your daily vitamin could be this delicious and fun!?
Slice of Life gummy vitamins are made with premium ingredients and are scientifically formulated for adults.
Features:
B12 + B6
Helps the body to metabolize carbohydrates, fats and proteins

Allergen, gluten and dairy free
Recommended Dose: Adults take two (2) gummy slices a day.

Medicinal Ingredients: Each gummy slice contains:

Vitamin B6 (Pyridoxine hydrochloride) ... 1 mg
Vitamin B12 (Cyanocobalamin) ... 250 mcg
Folate ... 200 mcg

Other Ingredients: Glucose syrup, natural cane sugar, water, gelatin, citric acid, lactic acid, natural flavours (black cherry, cranberry, raspberry), and natural colour (black carrot juice concentrate).
Free of: Gluten, yeast, wheat, casein, dairy, milk, egg, soy, salt, tree nuts, peanuts, shellfish, artificial flavours, artificial colours, salicylates and artificial preservatives.