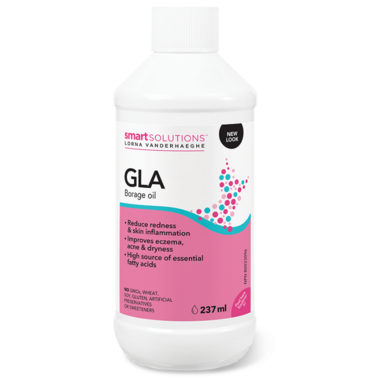 Description
GLA nourishes skin from within by providing essential fatty acids that improve skin moisture, elasticity and firmness. GLA is for anyone who may be experiencing inflammatory skin conditions, such as eczema and acne. It is also popular for women who are looking to support healthy skin as they age due to it's ability to improve skin moisture, elasticity and firmness.
Features:
Helps improve eczema and acne
Helps to maintain skin firmness
Helps to maintain skin moisture and elasticity
Helps to improve skin elasticity. Helps to improve skin hydration
Source of omega-6 fatty acids for the maintenance of good health
Recommended Dosage:
Take 1 to 2 teaspoons daily with food and/or apply to the skin as needed.

Medicinal Ingredient:
Each Teaspoon Contains:
GLA (From organic Canadian borage seeds) 5000 mg
Caution:
Keep out of reach of children. Consult a health care practitioner if symptoms persist or worsen.
Highlights

Features
Helps improve eczema and acne
Helps to maintain skin firmness
Helps to maintain skin moisture and elasticity
Helps to improve skin elasticity. Helps to improve skin hydration
Source of omega-6 fatty acids for the maintenance of good health
Ingredients
GLA (From organic Canadian borage seeds) 5000 mg
Shipping & Returns