SmartSweets Berry Sweet Fish Pouch
SmartSweets Berry Sweet Fish Pouch
is rated out of
5
by
43
.
Kick Sugar Keep Candy! Each bag of Smartsweets contains just 5g of sugar per 50g.

Features:
Non GMO
Gluten Free
Free from artificial sweeteners and colours
High in fibre
Plant-based

Only 5g of sugar & 120 calories per pouch
Ingredients: Isomalto-Oligosaccharides (Vegetable Source), Water, Modified Potato Starch, Pectin, Citric Acid, Natural Berry Flavour, Carrot And Blackcurrant Preparation (For Colour), Modified Coconut Oil, Carnauba Wax, Malic Acid, Stevia Leaf Extract.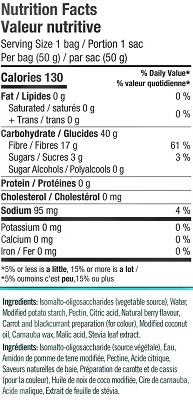 *Please note that SmartSweets Berry Sweet Fish Pouch is undergoing a formulation change and you may receive the above listed item or the following:
New package: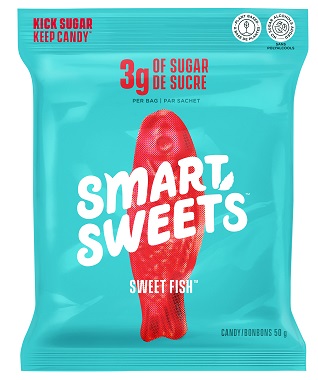 Kick Sugar Keep Candy! Each pouch of Smartsweets Berry Sweet Fish contains just 3g of sugar per 50g.

Features:
Plant based

Gluten Free
Free from sugar alcohols

Free from artificial sweeteners and colours
Only 3g of sugar & 130 calories per pouch
NEW Ingredients: Isomalto-oligosaccharides (vegetable source), Water, Modified potato starch, Pectin, Citric acid, Natural berry flavour, Carrot and blackcurrant preparation (for colour), Modified coconut oil, Carnauba wax, Malic acid, Stevia leaf extract.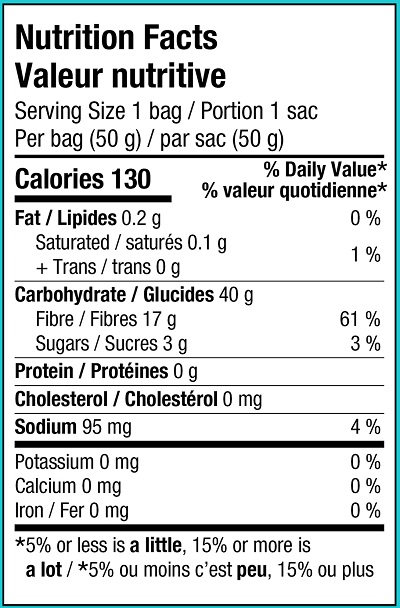 Other SmartSweets Products
Rated

5

out of

5
by
Larissa
from
Treat for Gestational Diabetes
I was diagnosed with gestational diabetes despite having a good diet. This happens more than you think and for me it wasn't so bad until the holidays hit which lined up with the third trimester. To not act on ANY cravings was driving me nuts and I happened to find these. Whenever my sugar was lower at night I'd treat myself to a package of these which really made my night :) I wish I had found them sooner. They aren't too sweet and the berry flavour was spot on for me.
Date published: 2020-01-26
Rated

3

out of

5
by
Gems4
from
Gummies.
This is the first time I have bought this product. However I was a little disappointed in the fact that it contained Carrigean. As well it had a funny aftertaste. For the price also there isn't much in the packages. Contacted the company and they said that the next batch that's coming out will not have Carrigean. Just wish that there wasn't a funny aftertaste when eating this product. For this reason I probably will not buy it again. Was nice that there's no artificial colouring and flavouring
Date published: 2020-03-29
Rated

1

out of

5
by
nosmartsweets4me
from
tastes so bad
might be healthy but i'm sorry these taste SO BAD, i couldn't finish a bag, i definitely do not recommend. there are yummier healthy candy alternatives out there!
Date published: 2020-11-21
Rated

5

out of

5
by
AB27
from
Super yummy!
So yummy and no guilt over eating them all or letting our kid have extra
Date published: 2020-09-16
Rated

5

out of

5
by
Heather
from
Great!!
These are excellent! They are soft and have a great berry flavour. They are quite big. If you are looking for a good low sugar Treat. They are quite expensive considering you probably only get about a dozen (maybe a few more) in the package but honestly in my opinion still very worth it!
Date published: 2020-08-05
Rated

5

out of

5
by
Diana
from
Great snack!
I have been a huge fan of Smart Sweets from the beginning and have seen the product improve. It's such a great alternative to those sugary snacks and the BEST for a diabetic. Although I enjoyed this new variety of the sweet fish, I much prefer the gummy bears.
Date published: 2020-02-18
Rated

2

out of

5
by
jen95
from
I wanted to love these
The taste of these is quite good, but the candy in the bag I received are so rock hard that I can't even chew them... They're so hard that I can't even eat them, so it was a bit of a waste to even buy them because they're just going to go in the garbage
Date published: 2021-05-04
Rated

5

out of

5
by
SuzyQ
from
So Good !!
I bought these a month ago and they were so good and just the right sweetness. I am highly intolerant of any corn byproduct and I was looking for a candy treat with no corn syrup and this was it ..so happy I tried them !!
Date published: 2020-12-05