SmartSweets Peach Rings Pouch
SmartSweets Peach Rings Pouch
is rated out of
5
by
22
.




At SmartSweets they've innovated a delicious candy - without the sugar. Free from sugar alcohols and artificial sweeteners. Every ingredient we use is non-GMO, always real and never artificial. Kick Sugar Keep Candy! Each bag of Smartsweets contains just 5g of sugar per 50g.
Features:
Non GMO
Gluten Free
Free from artificial sweeteners and colours
Peanut and Tree nut Free
High in fibre

Only 5g of sugar & 130 calories per pouch
Ingredients: Soluble fiber from tapioca, rice flour, pectin, chicory root fiber, malic acid, lactic acid, fumaric acid, citric acid, fruit and vegetable juice (for color), natural peach flavor, coconut oil, stevia leaf extract, carnauba wax.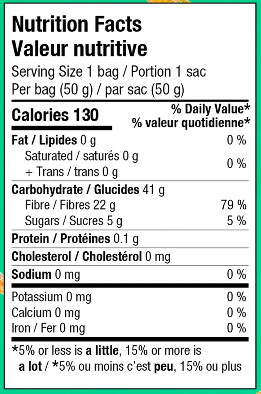 Rated

5

out of

5
by
sdobie
from
Great Alternative for Fuzzy Peaches
I can't get enough of these, I'm super happy they are plant based and I can get a sweet fix without all the extra sugar. I will note that like other health food stores they are quite expensive to purchase as individual packages on here. There are big box stores selling MUCH cheaper.
Date published: 2020-06-03
Rated

4

out of

5
by
Jess K
from
Good, but too expensive
I've been seeing these everywhere, and had to try them for myself. They are pretty good. The texture is different than I was expecting, more like a hard jelly, I guess cause they're vegan. They don't get stuck in your teeth at all. They flavour is great, very sweet and peachy, but they have a bit of a weird aftertaste. I would buy again if they were half the price, otherwise not really worth it for me.
Date published: 2020-06-30
Rated

5

out of

5
by
Heather
from
Love these!!!
These are probably my favourite gummy treat! Have a great gummy chewy texture but aren't rubbery, the flavour is so good! Their tarp sweet! My favourite peach gummy treat and overall gummy treats by far! I only buy them as a treat once in a while as they are quite expensive but definitely worth the money in my opinion!
Date published: 2020-08-05
Rated

4

out of

5
by
JMD14
from
Smart choice
I saw an advertisement for these 5rough my professional organization and wanted to try them. They taste much like the original version, have only 3G of sugar per bag and 28g fibre! Very minimal aftertaste from the stevia and portion size was just enough to satisfy a sweet tooth!
Date published: 2020-03-31
Rated

4

out of

5
by
Sammi
from
Would purchase again
I bought these only to receive the free shipping, at first I wasn't a fan but after trying again with them, I did like the flavour. I wasn't sure what to expect since I've never tried anything like this, but I grew to like them. They were nice and tangy!
Date published: 2020-05-04
Rated

5

out of

5
by
melz
from
So tasty!
In general I love smart sweets, but I find some of them to be extremely sticky. These do not have that problem, and the peach flavour is so nice and natural, not that synthetic overly sweet flavour conventional peach rings have.
Date published: 2020-07-16
Rated

4

out of

5
by
Rhea
from
Love these!
I love these as an occasional snack, as do my kids. They're great if you're trying to avoid very sugary candy but want a bit of a gummy-hit. They are a bit expensive - they should make larger, value packages.
Date published: 2020-05-28
Rated

4

out of

5
by
Rhea
from
A bit pricey but a good product
Delicious, great texture and my kids love them - I give them as treats occasionally, and it makes me feel good that they're not having too much sugar. They are a bit pricey, though.
Date published: 2020-11-03