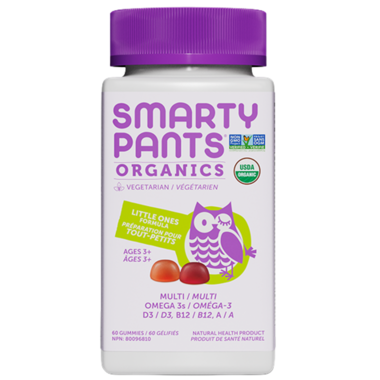 Description
Organic Little Ones Formula combines 14 premium nutrients, omega-3 from organic flaxseed oil in a premium, multifunctional gummy vitamin. Plus, it's certified organic and vegetarian. Helps to support immune function, energy production, and helps in the development of strong bones and teeth.
Recommended Dosage: For children 3 years of age, take two (2) gummies daily under adult supervision. May be taken with or without food. Chew each gummy thoroughly. Take a few hours before or after taking other medications or health products.

Caution: Consult a health care practitioner prior to use if you are taking blood thinners. Store in airtight container, protected from light.
Highlights

Features
Multifunctional Toddler Formula for digestive, bone, immune health.
Organic, vegetarian, non-GMO
Omega-3s
Gummies
Ingredients
Medicinal Ingredients: Per 2 gummies: Vitamin A (retinyl palmitate) 24.75mcg RAE. Beta-carotene 45mcg. Vitamin C (Ascorbic acid) 12.5mg. Vitamin D (D3 as cholecalciferol) 10mcg (400IU). Vitamin E (as d-alpha-tocopherol) 3.3 mg AT (4.95IU). Thiamin (Vitamin B1 as thiamine mononitrate) 0.05mg. Riboflavin (Vitamin B2) 0.08mg, Vitamin B6 (as pyridoxal 5-phosphate) 0.5mg. Folate (as L-5-methyltetrahydrofolate, calcium salt) 75mcg. Vitamin B12 (as methylcobalamin) 0.9mcg. Biotin 8mcg. Choline (as choline bitartrate) 9mg. Iodine (as potassium iodide) 45mcg. Zinc (as zinc citrate) 0.75mg. Flaxseed Oil (Linum usitatissimum, Seed) 128mg. Alpha-Linolenic acid 67 mg. Oleic acid 20mg. Vitamin K2 (as menaquinone-7) 7.5mcg. Non-medicinal Ingredients: Organic Tapioca Syrup, Organic Cane Sugar, Organic Lemon Juice Concentrate, Pectin, Organic Natural Flavours, Sodium Citrate, Colours Added (Organic Black Carrot Juice Concentrate, Organic Maqui Berry), Organic Sunflower Oil, Organic Carnauba Wax.
Shipping & Returns