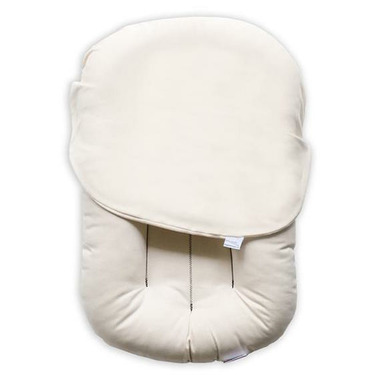 Description
THE NEXT BEST THING TO BEING HELD IN YOUR ARMS
The Snuggle Me® Lounger is a unique lounging pad designed to hug your baby's full body. This snuggling sensation is highly effective at calming and comforting your baby when you need extra support.

ORGANIC, SUSTAINABLE & ETHICALLY MADE
Snuggle Me® are in love with the idea and quality of organic, USA-made baby items. They entrust local, Minnesota seamstresses and fillers with the crafting of each Snuggle Me® Lounger. Made with GOTS certified organic, non-toxic, breathable, and hypoallergenic fabrics. Filled with polyester fiber fill for a fully machine washable lounger.
SAFETY IS THE #1 PRIORITY
As inventors of the original baby lounger, Snuggle Me® are leaders in their category for safety. As recommended by the AAP, never use any baby lounger as a sleep device. Never use any baby lounger unsupervised. Use the Snuggle me® Lounger for supervised lounging, tummy time or as a changing pad.

BEST BABY GIFT FOR NEW MOTHERS
When you can't be there, you can still send the reassuring support of a Snuggle Me®. Their baby lounger blends seamlessly into any home as a non-intrusive support aid, ready and waiting to give an extra hand.
Features:
Ages 0–9 months
29" x 17" x 4"
5 lb.
Hypoallergenic
100% organic cotton with 100% polyester fiber fill
Machine wash, tumble dry
Made in the USA
Kids' Wear
Global Organic Textile Standard certified. GOTS is one of the strictest certifications for organic materials on the market today and includes rigid controls of, among other things, chemical use and working conditions
Materials:
Snuggle Me Organic loungers are made with GOTS certified organic cotton fabrics and a hypoallergenic polyester fiber fill. GOTS Certified fabrics currently hold the highest and most strict material safety standard in the world. Snuggle Me also insist that every component of your Snuggle Me is USA-made, yes, even the very cotton threads are grown in the USA. This care and attention to detail matters deeply to them as mothers themselves.
Please note, all of Snuggle Me fabrics are organically dyed and can vary slightly in color. Colors may also appear slightly darker/lighter depending on the calibration of the device you are shopping with.
None of Snuggle Me's products contain: Flame Retardants, Ethylene Glycol, BPA's, Phthalates or Lead.
This product is excluded from any special promotions or coupons.
Highlights

Shipping & Returns