Sobrii 0-Gin Non-Alcoholic Gin
Sobrii 0-Gin Non-Alcoholic Gin
is rated out of
5
by
10
.
Sobrii 0-Gin Non-Alcoholic Gin.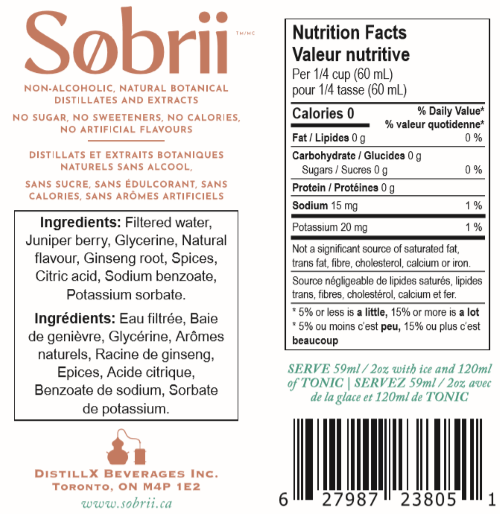 Rated

5

out of

5
by
Michelle T
from
I bought this during the COVID-19 public health crisis
I spent the first few weeks of quarantine consuming too much alcohol. I knew I needed to stop, but wanted a fun cocktail to look forward to at the end of the day. I found Søbrii on Well.ca and placed an order. This has strong juniper notes and an herby aftertaste. It's very potent, so only a half ounce in a 225mL serving of tonic water is needed. Very realistic and refreshing in a dry gin and tonic, especially with a lime wedge and lots of ice. And bonus: 0 calories!
Date published: 2020-04-24
Rated

5

out of

5
by
Hilary
from
Fabulous!
I tried another brand of no alcohol gin from England which was a complete waste of money and was totally tasteless. This, however, is a wonderful alternative to alcohol and makes a wonderful cocktail. I am feeling much better about my decision to eliminate alcohol from my life! I love Well.ca. The shipping and service and second to none.
Date published: 2020-03-02
Rated

5

out of

5
by
David
from
Refreshing and smooth
I ordered this for an afternoon party with a small group of friends and family. My guests were so impressed with this spirit free drink. Highly recommend this for those looking for an amazing non alcoholic beverage !!!
Date published: 2020-02-03
Rated

5

out of

5
by
cjtvs
from
Great gin flavour
I really enjoy cocktails outside when the weather is nice, but don't enjoy the hangover that follows! This is a great way to add the flavour of gin to a drink and being good to your body. Also love the natural ingredients!
Date published: 2020-05-24
Rated

5

out of

5
by
MK
from
A very pleasant surprise
Looking for an alternative to gin as I decided to give up alcohol. While not identical (which is to be expected) this is a very good substitute. It makes a very refreshing cocktail with tonic and lime and lots of ice.
Date published: 2020-05-28
Rated

1

out of

5
by
Lori-G
from
Not even close to gin taste!
I bought this based on the good reviews but in this instance should have listened to to the poor one. It has quite a medicinal taste and has no resemblance to gin flavour. The cost is extremely high. I will probably just pour it down the drain. Very disappointing.
Date published: 2020-06-17
Rated

1

out of

5
by
carly_mc
from
Bad Aftertaste
I don't write reviews very often but thought it necessary with this purchase. This product does not resemble gin. The aftertaste is actually quite soap like and is not pleasant. For the $38 it cost I felt quite ripped off, save your money.
Date published: 2020-06-09
Rated

5

out of

5
by
Simplybysheila
from
Happy hour!
I bought this because I wanted a no calorie, nonalcoholic drink. I add diet tonic water with lots of ice and it is really good. I can't really compare to gin because I don't typically drink G&Ts but it is refreshing.
Date published: 2020-06-08