Solar Raw
Solar Raw Organic Ultimate Kale Chips Hemp Cream & Chive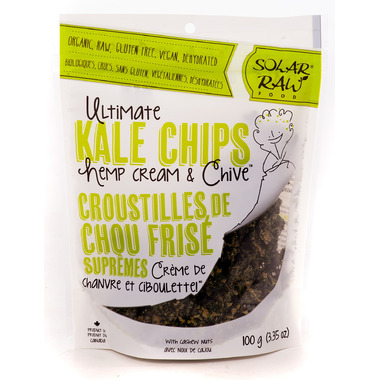 Solar Raw
Solar Raw Organic Ultimate Kale Chips Hemp Cream & Chive
Description
Try Solar Raw Hemp Cream and Chives Kale Chips for that savoury onion taste you know and love. This version is made with garden fresh kale smothered in creamy hemp hearts and chives – one taste and you won't be remiss!
Kale is a natural source of vitamins A, B6 and C. As well as a source of beta-carotene, calcium, copper, magnesium, manganese, potassium and dietary fibre. It's this combination of vitamins, minerals and phytonutrients that make kale a true super food.
Features:
Natural
Raw
Gluten Free
Vegan friendly
Never fried or baked, only air dried
Ingredients: Fresh kale*, pre-soaked cashew nuts*, pre-soaked sunflower seeds*, hemp seeds*, coconut sap* (Coco-Natura™ - low GI), Engevita® nutritional yeast, fresh lemon juice, fresh chives*, Filsingers™ apple cider vinegar*, Lumière de Sel® Himalayan Salt. *organic.
Caution: Contains nuts.
Highlights

Shipping & Returns