Soup Girl Smoky Split Pea Soup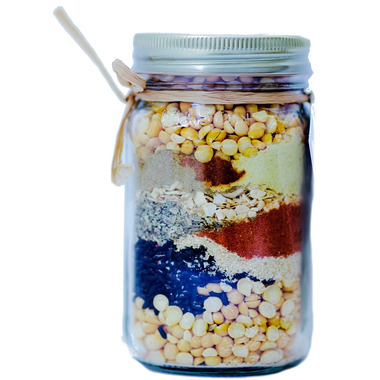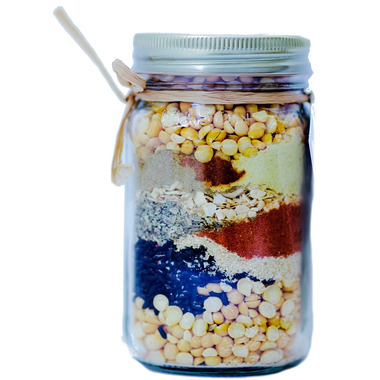 Soup Girl Smoky Split Pea Soup
Boasting the smoky and fragrant flavours of smoked paprika, oregano and chipotle, this soup is Southwestern smokin'!
Spice Level:
2/5
How to Use:
Combine jar's contents and 8 cups of water in a soup pot. Bring to a boil, then cover, reduce heat and simmer on medium-low for just over an hour, or until peas are tender.
Tasty Tips:
Once the soup is finished cooking, garnish with sliced avocado.
Ingredients: Yellow split peas, organic black rice, spices, herbs, onion, garlic, paprika, mustard powder, organic sea salt.
Nutrition Facts
Serving size 1 cup (250 mL)
Amount Per Serving
Calories 130
% Daily Value*
Total Fat 0.5g 1%
Saturated Fat 0.01g 0%
Trans Fat 0g
Cholesterol 0mg 0%
Sodium 440mg 19%
Total Carbohydrate 24g 9%
Dietary Fiber 8g 29%
Total Sugars 3g
Includes 0g Added Sugars 0%
Protein 8g 16%
Vitamin D 0mcg 0%
Calcium 26mg 2%
Iron 1.62mg 8%
Potassium 0mg 0%
Vitamin A 10%
Vitamin C 2%
*The % Daily Value (DV) tells you how much a nutrient in a
serving of food contributes to a daily diet. 2,000 calories a
day is used for general nutrition advice.