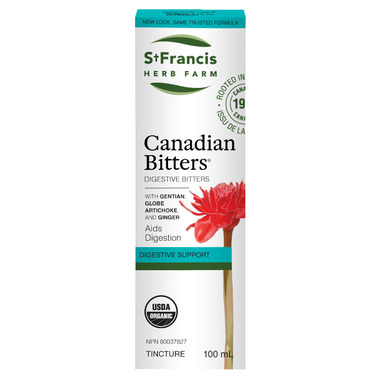 Description
Canadian Bitters is a digestive tonic for individuals with flatulent dyspepsia and gas, bloating, burping, indigestion and the sense of fullness associated with it. Canadian Bitters also helps relieve constipation, digestive distress, and sluggish peristalsis.

Suggested Usage: Adults: 1-1.5 ml (30-45 drops) 3x daily in a little water on an empty stomach.

Medicinal Ingredients: Globe Artichoke (Cynara scolymus), Dandelion (Taraxacum officinale), Gentian (Gentiana lutea), Fennel (Foeniculum vulgare), Chamomile (Matricaria chamomilla), Turmeric (Curcuma longa), Burdock root (Arctium lappa radix), Black Walnut hulls (Juglans nigra), Cardamom (Elettaria cardamomum), Ginger (Zingiber officinale), Calamus (Acorus americanus)

Non-Medicinal Ingredients: Grain alcohol, Distilled water, Vegetable glycerine

Cautions and Warnings: Consult a health care practitioner before use if you have been diagnosed with a medical condition or are taking prescription medication.

Contraindications: Do not use if pregnant or breastfeeding.
Highlights

Shipping & Returns