St. Francis Herb Farm Canadian Bitters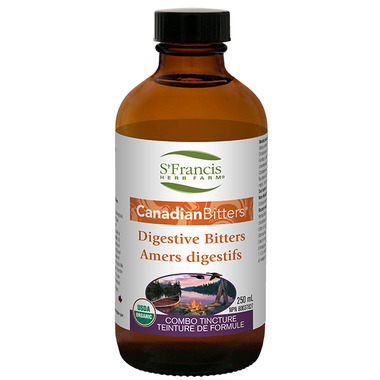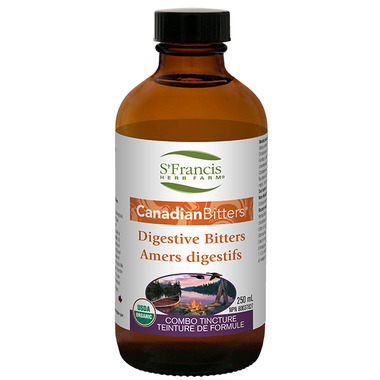 St. Francis Herb Farm Canadian Bitters
Canadian Bitters is a digestive tonic for individuals with flatulent dyspepsia and gas, bloating, burping, indigestion and the sense of fullness associated with it. Canadian Bitters also helps relieve constipation, digestive distress, and sluggish peristalsis.

Suggested Usage: Adults: 1-1.5 ml (30-45 drops) 3x daily in a little water on an empty stomach.

Medicinal Ingredients: Globe Artichoke (Cynara scolymus), Dandelion (Taraxacum officinale), Gentian (Gentiana lutea), Fennel (Foeniculum vulgare), Chamomile (Matricaria chamomilla), Turmeric (Curcuma longa), Burdock root (Arctium lappa radix), Black Walnut hulls (Juglans nigra), Cardamom (Elettaria cardamomum), Ginger (Zingiber officinale), Calamus (Acorus americanus)

Non-Medicinal Ingredients: Grain alcohol, Distilled water, Vegetable glycerine

Cautions and Warnings: Consult a health care practitioner before use if you have been diagnosed with a medical condition or are taking prescription medication.

Contraindications: Do not use if pregnant or breastfeeding.

Alexandra:
about a month ago
I take this before every meal because I suffer from SIBO. Definitely makes a difference in my digestion, food goes down more easily instead of just sitting there. I also take it whenever my stomach is upset or bloated. This often happens in the middle of the night. It doesn't always fix it completely but it help to make me feel a bit better.
J:
more than a year ago
Great for keeping away digestive trouble taken before meals. If I skip taking this before meals and find later on in the day that the food's not sitting right, or it feels like it's just sitting like a lump in my stomach not doing anything, a dose of bitters gets things going again, usually within 1/2 hr or less.
Page
1