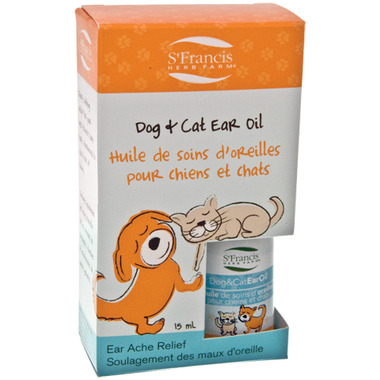 Description
Cats and dogs are especially prone to ear problems. These can really put a damper on the life and health of our animal friends. An infestation of mites, for example, is apt to produce ear infections that come with a host of nasty symptoms—fever, lethargy, loss of balance, head shaking, and ear scratching. Fortified by natural source vitamin E, the four carefully selected herbal ingredients that go into this formula enjoy a powerful synergy. Not only do they effectively relieve the pain of mites and rashes, but they have wound-healing, antimicrobial qualities as well.

Suggested Usage: 1 full dropper of ear oil placed directly in the external ear canal (rub ear gently), 2x daily, or as needed.

Ingredients: Mullein (Verbascum thapsus), Calendula (Calendula officinalis), Garlic (Allium sativum), St. John's Wort (Hypericum perforatum), Gargano Gold® Extra Virgin Olive Oil, Vegetable glycerine, natural source Vitamin E (d-alpha tocopherol acetate)

Cautions: Consult a professional veterinarian before use, or if symptoms worsen or persist. Occasional allergic reactions may occur in sensitive animals, discontinue use if this occurs.

For external use only.


Highlights

Shipping & Returns