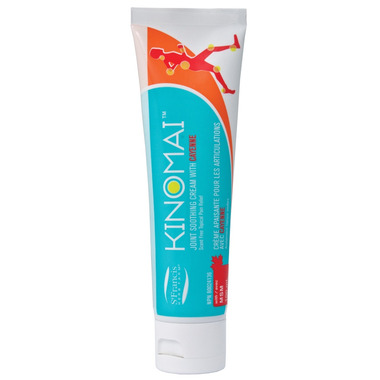 Description
St. Francis Herb Farm Kinomai Cream with Cayenne is a joint soothing cream that temporarily relieves aches and pains of muscles and joints associated with one or more of the following: simple backache, lumbago, strains and sprains (involving muscles, tendons, and/or ligaments), and arthritis.
While it contains a broad array of healing herbs, not to mention MSM, this version of St. Francis Herb Farm's Kinomai™ Cream is keyed to its capsaicin content.
Capsaicin is the most important biochemical component of cayenne, a herb that has been used for centuries as a topical analgesic. In fact, it is over 50 times more potent than just the herb.
Application:
Adults, Adolescents and Children ≥ 2: Apply thinly and evenly to affected area up to 3–4 times per day. Rub and/or massage into skin until solution vanishes. For external use only. Avoid contact with eyes and mucous membranes. Do not apply to wounds or damaged skin. Wash hands after use. Do not bandage tightly. Do not apply with external heat, such as electric heating pad, as this may result in excessive skin irritation or burn.
Children (2–12 yrs. old): Application should be supervised by an adult.

Medicinal Ingredients (per dose): Capsaicin …………………… 0.025%
Non-Medicinal Ingredients: Aqua (Purified water ), MSM (Methylsulfonylmethane), Extra Virgin Olive Oil (Olea europaea), Helianthus annuus (Sunflower) seed oil, Boswellia sacra(Frankincense) resin, Verbascum thapsus (Mullein) extract, Salix alba (White Willow) bark extract, Spiraea ulmaria (Meadowsweet) extract, Hypericum perforatum (St. John's Wort) extract, Ricinus communis (Castor) seed oil, Cocoa butter, Cetyl alcohol, Virgin Coconut oil, Sorbic acid, Stearic acid, Glyceryl stearate SE, Vegetable glycerine, Commiphora myrrha(Myrrh) resin extract, Honey, Citrus grandis (Grapefruit) seed extract, Benzoic acid, Benzyl alcohol, Xanthan Gum, Potassium sorbate, Citric acid
St. Francis Herb Farm's herbal ingredients are Certified Organic/Organic/Wildcrafted. Formulated with organic preservatives. Paraben free.
Highlights

Shipping & Returns