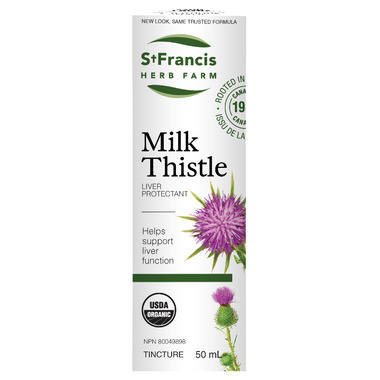 Description
Milk Thistle is used as a liver protectant, lessening damage from potentially hepatotoxic drugs, and in the treatment of liver disorders, including toxic liver damage caused by chemicals.

Suggested Usage: Adults: Take 0.83-1.33 ml (25-40 drops) 3x daily in a little water on an empty stomach.

Duration of Use: Use for a minimum of 3 weeks to see beneficial results.

Medicinal Ingredients (per 1 ml): Milk Thistle seed (Silybum marianum) 333 mg QCE (1:3)

Non-Medicinal Ingredients: Grain alcohol, Distilled water

Cautions and Warnings: Consult a health care practitioner if symptoms worsen or persist and before use if you are pregnant.

Known Adverse Reactions: Hypersensitivity (e.g. allergy) has been known to occur, in which case discontinue use.
Highlights

Shipping & Returns