St. Francis Herb Farm Mineral Matrix Goat Milk Minerals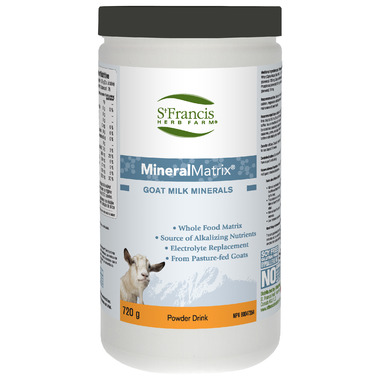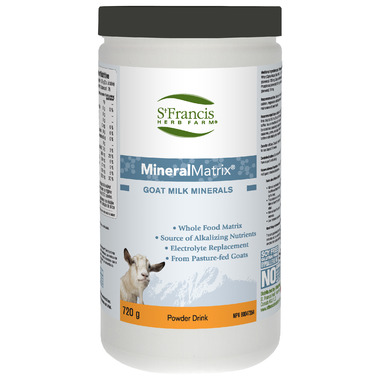 St. Francis Herb Farm Mineral Matrix Goat Milk Minerals
The ideal dietary supplement, Mineral Matrix pure dehydrated goat whey is an all-natural, highly concentrated whole-food source of more than 25 naturally occurring macro and trace minerals in a bio-organic form that our bodies recognize and utilize with ease.
Including goat milk whey as regular part of a balanced diet carries an astonishing range of health benefits.
Benefits:
Alleviates osteoporosis
Relieves the pain associated with joint disorders, including rheumatism and arthritis
Treats stomach acidity, as well as sensitive digestion
Alleviates constipation
An excellent source of the minerals and trace elements vital to a child's nutrition
A good supplement (in diluted form) to the diet of infants, one that is especially helpful in treating colic
A great means of supplying the much needed minerals and trace elements that are depleted through pregnancy or breast feeding in expectant or new mothers
Strengthens a deficient immune system
Helps in overcoming lethargy and fatigue
Suggested Usage:
Add 26 g (2 tbsp.) to 250 ml (8 oz) of hot water, juice, yogurt, or milkshake and mix vigorously.
Can also be added as a seasoning to salads, vegetables, casseroles, gravies, and soups.
Ingredients:
Pure Dehydrated Goat Milk Whey.

Susan:
about a year ago
This stuff tastes great! It's like adding a beef bouillon cube to your soups and meals. It's got a very nice beefy taste. It enhance the flavour of a lot of food dishes and it increase the nutrition and health value of my food. I'm ordering my 2nd jar. It took me over a year to get through 1 jar. Great stuff.
Page
1