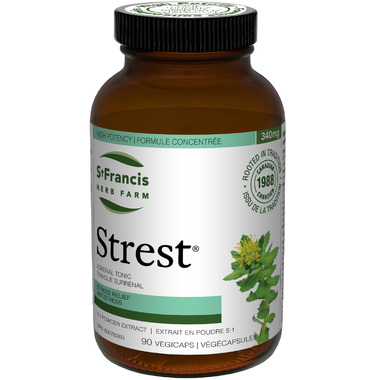 Description
Strest helps energy levels, concentration, and work capacity, even as it balances the emotions and improves resistance to stress. Besides being an exceptional nerve tonic, this combination also mitigates the deterious long-term effects that stress can have on the body.

Suggested Usage: Adults: Take 1 capsule 3x daily on an empty stomach.

Duration of Use: Consult a health care practitioner for use beyond one month.

Cautions and Warnings: Consult a health care practitioner before use: if you are breastfeeding; if you suffer from bipolar disorder; if you have any type of acute infection. Consumption with alcohol, other drugs or natural health products with sedative properties is not recommended. Consult a health care practitioner if symptoms worsen or persist.

Contraindications: Do not use if you are pregnant.

Known Adverse Reactions: Hypersensitivity has been known to occur, in which case discontinue use.
Highlights

Ingredients
(per 340 mg capsule): Eleuthero root (Eleutherococcus senticosus) 85 mg (5:1 extract, QCE 425 mg); Holy Basil leaf (Ocimum tenuiflorum) 85 mg (essential oil-enriched 5:1 extract, QCE 425 mg); Ashwagandha root (Withania somnifera) 54.4 mg (5:1 extract, QCE 272 mg); Rhodiola root and rhizome (Rhodiola rosea) 54.4 mg (3.6% rosavin; 5.3:1 extract, QCE 28 mg); Oat seed (Avena Sativa) 40.8 mg (5:1 extract, QCE 204 mg); Schisandra fruit (Scisandra chinensis) 20.4 mg (5:1 extract, QCE 102 mg) Non-Medicinal Ingredients: Maltodextrin, Hypromellose, Magnesium stearate
Shipping & Returns