St. Francis Herb Farm Triphala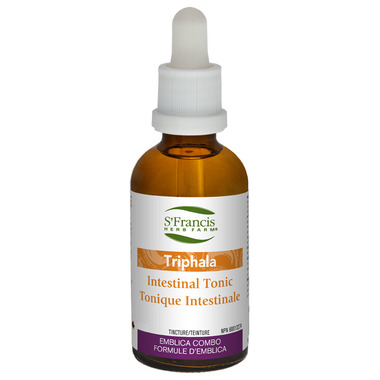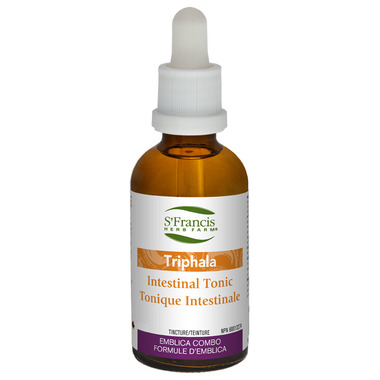 St. Francis Herb Farm Triphala
Triphala is key to helping re-establish the proper functioning of the digestive system. This superb herbal combination restores normal tone to the intestines, whatever the case may be - whether poor digestion or chronic constipation or diarrhea. Although they have laxative properties, the herbs in Triphala are only purgative in high doses. In optimal therapeutic doses, however, they help to restore normal function to sluggish bowels and the entire digestive tract. The result from its continued use is stools that are well-formed and complete.

Suggested Usage: Adults: Take 4-6 ml (120-180 drops) once daily in a little water approximately 2 hours after the evening meal.

Medicinal Ingredients (per 1 ml): Amla fruit (Emblica officinalis) 0.3 ml (1:4, QCE 83 mg); Bibhitaki fruit (Terminalia bellirica) 0.3 ml (1:4, QCE 83 mg); Haritaki fruit (Terminalia chebula) 0.3 ml (1:4, QCE 83 mg)

Non-Medicinal Ingredients: Distilled water, Grain alcohol

Cautions and Warnings: Consult a health care practitioner if breastfeeding or if you have impaired digestion or are taking other medications.

Contraindications: Do not use if you have diarrhea or are pregnant.

Known Adverse Reactions: Discontinue use and consult a health care practitioner if you experience any persistent abdominal discomfort.



Courtney:
a few months ago
Great product, seems to be doing exactly what it's meant to do. Does NOT have a strong laxative effect, just tonifies and nourishes the bowel so it can do what it's supposed to do.
Will continue purchasing here as this is the best price I've found. Also got it on sale when all st Francis products were on special, so got a great deal!
Page
1